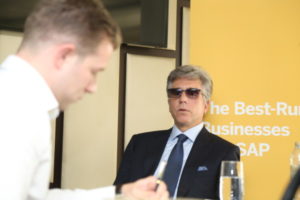 SAP chief executive officer Bill McDermott has said that plans are underway to launch a data centre in the Middle East by "early 2017".
McDermott indicated that Dubai would be a frontrunner for the firm's choice of location, but also hinted that Riyadh could be another possibility. He even suggested that there could be several sites across the region.
"We're refining the locations and final strokes on where exactly the data centre will be, but the capability is certainly there in Dubai and perhaps even one or two other locations," he said. "Before anything is announced, you can quote me, 'we're doing it.'"
He went on to highlight that markets such as the Middle East were a crucial part of SAP's strategy if the company were to continue expanding.
"Since 2007, we've been the fastest growing software company in the Middle East," he said. "We have to ask ourselves where growth will come from when we look around the world. We need markets like the Middle East, Africa, South America and India to ensure we grow."
Against a backdrop of hype surrounding digitalisation prospects in the region, McDermott conceded that there was work to be done, but vast opportunities that were readily open.
"It's important to have a vision and start somewhere," he said. "The region is counting on us to scale opportunities across 25 industries. The partnerships we have with universities for research technology and innovations provide the chance to get beautiful minds into a digital workforce. I think it all starts with education."