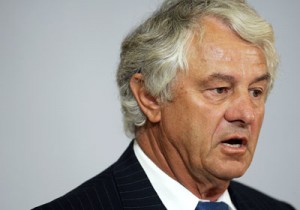 Dr. Hasso Plattner, Chairman of Supervisory Board, SAP, blasted Internet myths surrounding the capabilities and availability of its HANA technology during the final day of Sapphire Now.
Plattner, co-founder of the company, addressed the audience by posing the most common questions asked about HANA, as well as the most common myths that he has found, owing themselves to, he says, the technology being too complicated to be reported accurately.
"I was looking through the freedom of speech legislation – I could not find the freedom to make up facts," he said.
"I like to conduct my keynotes based on the questions we get asked, so we know that we're addressing the right issues."
Plattner said that SAP had engineered HANA based on his first question; what do customers expect from SAP products and platforms?
"They expect a wide range of applications, high availability, a system which can be extended, a system that can adapt to challenges, full access to applications from mobile devices, a system that is as easy to use as possible, a consumer grade user experience, and happy and content users."
Following yesterday's announcement that all SAP software applications are now available in the HANA cloud, Plattner then asked: What are the different application types and which of them are in reach of cloud-based deployment?
"These applications are simple configuration oriented applications. We are talking about real-time analytics, ERP, CRM, SRM, etc. We can deploy these in the cloud now – any application. And this leads to the question – how are applications for the cloud different? Many will say they are; a new licencing model – pay as you go, a new rental model – this is the new type of flexibility. We can now have upfront payments and maintenance – we can have everything in the cloud."
But how are these applications fundamentally different? Plattner claims that speed of deployment is one of the main characteristics. Once an application is in main memory, the deployment is extremely fast.
Following this, Plattner addressed the common myths surrounding HANA. Simple myths he claims to have found online, such as whether it's possible to do virtualisation on HANA – yes, he claims.
Adopting HANA is disruptive to business, one myth claimed. "It is not disruptive," stated Plattner.
"Most of the changes are happening in the data layer. Applications are not fully re-written at all, rather they are re-factored and simplified, due to the full use of SQL and stored procedures – this transaction is not disruptive to business.
"The database is completely re-architectured from scratch to benefit from massive parallelism."
Another myth he addressed was whether or not HANA is ready for prime-time deployment. Following this he displayed a running list of hundreds of companies in quick time which have already launched HANA.
"It's going fast so you can't read it, I didn't get the time to call them and get clearance to use their names," he laughed.
Next myth: HANA is only for SAP applications. "That hurts me, that really hurts me," Plattner said.
"We preach that over 60 percent of used cases are outside of SAP – cancer treatment, sports statistics, etc. Not to mention that over 430 start-ups are on HANA, building amazing things."
So why is HANA the right database and platform for an elastic cloud? Any tools can be used on HANA, he claims, even Oracle.
"Not the company itself, but the tools set. It's a good tool set. You can run these on top of HANA, and it works… Just quicker," he joked.
Plattner claimed that HANA and SAP is all about innovation, and that HANA is giving the power back to the mathematician.
"Look at what these brilliant minds can do with these predictive analytics. HANA, with the power of mathematics and design, is the key to achieving the unthinkable."