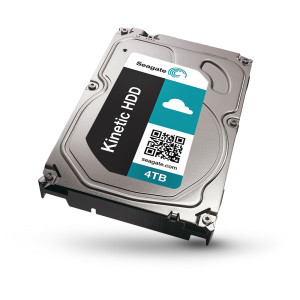 Seagate has unveiled an upgrade to its Kinetic Open Storage platform, which has eliminated multiple layers of legacy software and hardware infrastructure.
The Kinetic HDD drive combines an open source object storage protocol with Ethernet connectivity.
Kinetic Open Storage platform "dramatically simplifies" large-scale storage architectures by eliminating the overhead of an entire storage-server tier.
"Over the past decade, the unprecedented explosion of data has been driven by social media, smartphones, tablets, and the rapid growth of every sort of Internet-connected device," said Scott Horn, Vice President, Marketing, Seagate. "Cloud service providers are increasingly looking for solutions that will simplify infrastructure, improve scalability and reduce costs. Kinetic HDD addresses these needs, revolutionising the data storage economics for today's cloud and beyond."
Kinetic Open Storage platform eliminates the need for legacy file systems and shifting HDD storage media space management to the drive itself.
It allows storage applications to talk directly to Kinetic object storage HDDs.