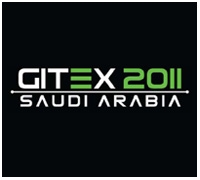 Secureway Network Distributors is promoting its extensive range of IT security solutions at GITEX Saudi Arabia 2011, which is being held at Riyadh International Convention and Exhibition Center from May 16 to 19, 2011.
Secureway is showcasing the latest technologies and solutions from its vendor-partners such as Fortinet, F5, Sophos, Imprivata, Vasco, LogLogic and InfoBlox at the leading ICT event in the Kingdom.
"Saudi Arabia is a very important market for Secureway and GITEX Saudi is the perfect forum for us to create awareness of our extensive portfolio of world-class solutions. We are showcasing the latest technologies of our exhibiting vendor-partners and our product managers, vendor partners and technical experts have flown in especially for the exhibition and are holding product demonstrations for our new and existing customers and partners. We are also holding several business meetings to discuss business opportunities and are looking forward to signing new channel partners at the event," said Mohamad Akkad, Country Manager – KSA, Secureway.
Senior executives from the company and its vendor-partners are at the exhibition to meet with customers from across the country at the event to understand their requirements and gain their feedback on their installations.
"We are expecting to have a successful show. We look forward to meeting our existing customers and channel partners and signing on new customers and partners at the event. We are confident GITEX Saudi will give us a platform to increase the visibility of the brands we carry, create awareness of the latest technologies in IT security and help us reach out to a wider customer base," Akkad added.