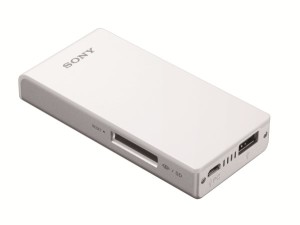 Sony on Thursday launched its new Portable Wireless Server (PWS), which it said helps users to view, share, and store content on the move or at home from their smartphones.
The device serves as a battery charger and card reader/writer, which helps users to manage multimedia data such as photos, videos, music files, and office documents, Sony said.
As long as you have a wireless connection, Sony added, using PWS to manage files can be particularly useful for people who own smartphones that do not have a memory card slot. The PWS can also connect several devices via Wi-Fi at one time, allowing up to eight users to simultaneously share and playback same or different content.
The PWS also functions as a back-up power source for smartphones or digital cameras. Consumers can use the PWS for up to 10 hours of continuous MP3 playback. All controls are managed by the smartphone or tablet through the PWS Manager App, which is available on Google Play and the Apple App Store.
The PWS, model WG-C10, will be available in the UAE from August 16 2013 onwards, at a suggested retail price of Dh389, Sony said.