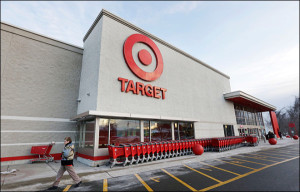 Up to 110 million people, about a third of the U.S. population, may be affected by a data breach at retailer Target, nearly triple the number the company first estimated in mid-December.
A Target spokeswoman clarified late Friday that a 70 million figure released earlier in the day was in addition to the 40 million people the company first estimated to be affected by the breach.
There may be some crossover between the two groups of victims, but Target does not know its extent.
"This theft is not a new breach; these are two distinct thefts as part of the same breach and this development was uncovered in the course of the ongoing investigation," she said.
In addition to the credit and debit card data stolen from Target, thieves also took customer names, mailing addresses, phone numbers or email addresses, Target said on Friday.
Target found the additional affected customers and the additional information that was taken in its ongoing forensic investigation, the company said.
Target will attempt to contact those people affected by the breach in cases where it has a customer's email address. It will not ask customers for any personal information in those emails.
Target announced in mid-December that thieves had taken credit and debit card information between 27th November and 15th December.
"I know that it is frustrating for our guests to learn that this information was taken and we are truly sorry they are having to endure this," Gregg Steinhafel, Target's chairman, president and CEO, said. "I also want our guests to know that understanding and sharing the facts related to this incident is important to me and the entire Target team."
Target has pledged to pay for the costs of any fraudulent charges related to the breach. The company is also offering one year of free credit monitoring and identity theft protection to customers who shopped at the company's U.S. stories.
More information about the breach is available at Target's website.
Originally published on
IDG News Service (Washington Bureau)
.
Click here to read the original story.
Reprinted with permission from
IDG.net
. Story copyright 2018 International Data Group. All rights reserved.