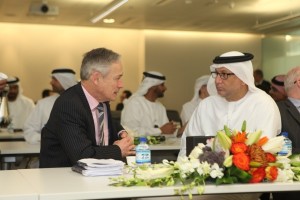 The Telecommunications Regulatory Authority today staged an ICT workshop in conjunction with The Irish Embassy in UAE and Enterprise Ireland at the Authority's Abu Dhabi headquarters.
The purpose of the event was to provide a platform for a team of CEOs from Irish ICT companies to present business solutions to relevant UAE industry stakeholders. In addition to a range of TRA divisional heads, Richard Bruton, Irish Minister for Jobs, Enterprise and Innovation was in attendance to pledge his support for the event.
"Both the people and governments of the United Arab Emirates and Ireland have long enjoyed a productive association and the success of this event stands as testament to the strength of the bilateral relationship," H.E. Mohamed Nasser Al Ghanim, Director General of the TRA said.
"The economic significance of the ICT sector is globally recognised as increasing and so too is the UAE's role in shaping innovation within it. The UAE is a gateway to ICT and telecommunications development in the region and it is promising that the Irish ICT companies present recognise the opportunity to work collaboratively with both the TRA and the UAE for a prosperous economic future through advanced technology," he added.
The event opened with an address from both the Director General of the TRA and the Irish Minister which preceded a series of presentations from Irish companies and UAE based stakeholders.
"Ireland has traditionally been a trade economy with a track record of harnessing the power of technology to advance business," Bruton said. "As the nation's ICT regulators, the TRA has unique insight into the inner workings of the sector and the opportunity for our delegation to meet with its representative and access this knowledge is an invaluable one.
"This event will certainly aid the efforts of Irish companies seeking to put down roots in the region and be part of an advanced ICT market currently experiencing positive growth. On behalf of the Irish Government, I would like to thank the TRA for their hospitality and state that we look forward to the future of our association with great promise," he added.