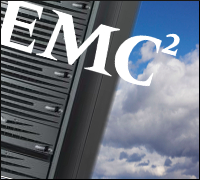 Web hosting and managed services company Webair has deployed EMC Isilon scale-out NAS to provide its clients with cloud storage, EMC announced today.
The EMC Isilon X-Series was deployed to replace Webair's legacy storage systems, which the company said were costly to acquire and cumbersome to maintain.
By implementing EMC Isilon, Webair said it is saving money and offering more flexible, automated storage services to clients.
Prior to the deployment of the EMC Isilon-based Webair Cloud Storage Service, each Webair client was provided a dedicated storage system. However, to accomplish full redundancy, standby appliances and more complex configurations were often required.
This legacy configuration created additional management overhead and resource requirements, given the large number of storage systems Webair had deployed, it said.
Once Webair converted clients to its new Cloud Storage Service, which is built on an Isilon infrastructure, the company was able to remove all the capacity and speed limitations associated with standalone systems, reduce data center power and cooling draw, and provide clients with a more scalable and redundant solution, it added.
"EMC Isilon provides us with increased functionality so that we can match the right storage solution to the specific client use case. Clients no longer need to invest in dedicated storage systems based on growth projections," said Sagi Brody, CTO at Webair.
"Instead, they can order a cloud server from Webair with the CPU, memory, and storage resources they need, pay only for what they use today, and scale easily. Clients get the performance and capacity that a dedicated storage system would give them, along with the benefits of having that system securely in the cloud. They experience the best of both worlds," he added.
In September 2008, Webair rolled out its first Isilon deployment. Webair was among the first to take advantage of Isilon support for virtual LANs (VLANs).
VLANs enabled Webair to segment Isilon storage for each client for security and privacy purposes. With Isilon's scaling and 'pay-as-you-grow' model, Webair's clients only pay for the capacity they use.
"Web hosting and cloud services are extremely competitive industries. By deploying EMC Isilon for its storage infrastructure, Webair is staying one step ahead of competitors," said Sam Grocott, VP of marketing at EMC Isilon.
"They've significantly reduced their CapEx and other costs while giving clients secure, reliable, scale-out cloud storage. It's a win for both Webair and its clients," he added.