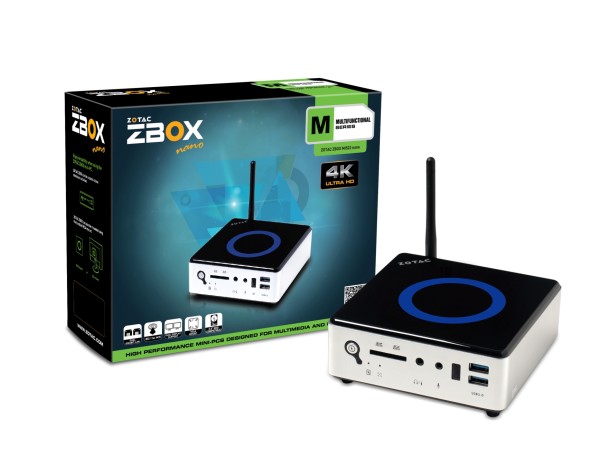 ZOTAC International has introduced the new M-series, a product that will integrate the new Intel Broadwell processors into the latest models, the new ZBOX MI522 nano and ZBOX MI542 nano are expected to make mini-PCs more power efficient.
The first of the two new designations, the ZBOX MI522 nano is the easy choice to get into the new Broadwell architecture. Shrinking the transistors to a mere 14nm, more transistors can fit on a single chip, boosting both calculation and graphical performance over its predecessors. Planted with an Intel Core i3 processor, the nano unit only measures at 127mm x 127mm x 45mm (5in x 5in x 2in).
The ZBOX MI542 nano is a step up that is packed with more computing power with the same advanced Intel Broadwell family. With a pulsing Intel Core i5 at its foundation, the ZBOX MI542 benefits from an even faster clock speed featuring up to 2.7GHz. This powerful nano unit is available on the same petite casing with all the functions of a desktop, and is topped with a vast array of connectivity options and dual-channel memory.
Like most other ZOTAC mini-PCs, these two M-series models come with their own plus versions, offering 4GB DDR3 memory and 500GB storage for a complete hardware solution. Packed with 5 USB ports, dual gigabit LAN and 802.11ac Wi-Fi connectivity in a miniscule enclosure, the ZBOX MI522 and MI542 series can function as a personal PC, office PC, home theater PC, and more.