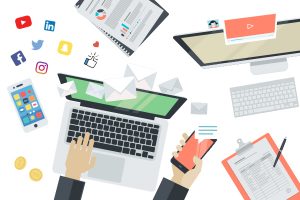 Intelligent marketing strategies have the ability to put a brand on the map and increase its sales and reputation considerably. Marketing managers play a key role in implementing joint channel marketing initiatives where liaising with marketing departments from different stakeholders becomes crucial. Reseller ME features marketing managers from across vendors, distributors and systems integrators and finds out how they have helped create overarching brand images for their organisations.
As customers find themselves in the digital era, their expectations and demands have evolved when purchasing products or solutions. They are better-informed, digital and social media savvy and seek innovation. In such an environment, marketing managers across vendors, distributors and partners need to constantly conceive innovative ways to capture the mindshare of customers in an increasingly competitive IT space, which is challenging to say the least.
Over the last five years, the marketing function has had the most innovation and change, mainly due to digital, says Yasmin Khaliq, marketing director, Equinix MENA.  "The change continues, tactics and strategies used by marketers becoming more cutting-edge and honing in on precision targeting of end – customer base."
According to Carlos Robles, head of Brand and Communications, GBM, today customers are seeking brands that can understand their needs.
"They are looking for those firms that can deliver an experience that goes beyond the initial 'product' pitch."
Technology brands should also keep in mind that customers now have the means to engage with them on a regular basis on social media platforms.
"This has shifted the way brands think and deploy their strategies. Today if you don't think about the customer first, your brand could be ignored or can become irrelevant," adds Robles.
Marketers should look at engaging with target audience through digital tools. Think Software Services' marketing manager Kavitha Advani says immense creativity is key.
"Irrespective of which industry we focus on, high resolution and high definition creative videos form core parts of any marketing campaign success. Digital marketing tools like Instagram have a great impact across UAE."
Those marketers who shy away from using social media platforms are missing out on a huge opportunity to connect with relevant customers. According to a 2017 HubSpot report, 74 percent of people say they use Facebook for professional purposes while a 2016 eMarketer report revealed that one-third of the world uses social networks regularly.
If you are not using social media tools for marketing strategies then you are out of the market, says Sakkeer Hussain, director, sales and marketing, D-Link Middle East and Africa.
"The biggest change from traditional marketing is that today social media platforms such as LinkedIn, Facebook and Twitter, are playing a vital role in creating effective strategies to reach relevant customers within a matter of seconds," he adds.
Shankari Gnanadesikan, marketing manager, Gulf, Aptec-An Ingram Micro Company, says, "Digital and social media is also a boon for marketers as they provide ready to use analytics and dashboards to measure ROI for every dollar spent."
eHosting DataFort's senior marketing executive, Gunika Arora, points out that a well-planned social media marketing strategy can bring remarkable success to businesses of all sizes.
"This is because it helps in increasing website traffic and conversions, enhancing brand awareness, creating a brand identity and positive brand association and improving communication and interaction with key audiences."
It is interesting to note that a distributor's role in marketing has also evolved over time. It is no longer just about organising partner enablement sessions, managing agencies for vendors and running promotions.
Aditya Puri, senior marketing manager, Redington Value, explains that value-added distributors (VADs) had functioned as vendors' extended arm to manage executions as per their centralised marketing strategies.
"Today incremental business for vendors is dependent on how VADs successfully run ROI based campaigns. Apart from traditional platforms, digital marketing has taken off in a big way," he adds. "As a VAD, it is no longer possible to sit back and drive vendor strategies, we have to be instrumental in creating customer-centric strategies to drive incremental sales."
Agreeing with Puri, Gnanadesikan adds, "We are seeing a growing importance and relevance given to marketing function in the channel business. There is a significant increase in the investment allocated to channel marketing initiatives driven by distribution."
All the marketers are in consensus that 'innovation' should be at the centre of their strategies, no matter how daunting it might be. However, Equinix' Khaliq says this doesn't mean that it needs to be big.
"Innovation success is measured, not by the magnitude of the change, but of the results. The question for all regional marketers is what are the outcomes of all that we do?" she says. "Moreover, marketing needs to help create an innovative DNA and culture in the core organisation."
"Innovation is a much-needed ongoing experiment. We need to have our eyes and ears open to sense it and then quickly act upon it," says Avinash Kagava, manager, Corporate Marketing and Communications, ManageEngine.
This is only possible if marketers have a deep customer knowledge and knows what will be effective as per unique characteristics of the market.
"Understanding the market and the target audience is imperative for successful marketing in any region. Language and culture in the Middle East region is so rich and diverse, we continuously seek assistance from our local partners and vendors to align with our customers, and to get our products to do the talking," says Kagava.
While communicating the brand message successfully to customers from diverse backgrounds is a challenge, another big one that Puri sees is that the majority of the marketing execution is often left to agencies who have limited knowledge on marketing technology. Also, marketing budgets are being consumed for creating extravagant events, which may not be always necessary, unless it is a major launch or announcement.
"Technology selling in a B2B environment is more about understanding customer pain points and building solutions to solve them," he says. "While organising heavily branded events surely attract attendees, marketing managers should keep in mind that it is also a myopic strategy. Customers are more interested in solving their business problems rather than attending glitzy events."
Marketing is all about the way you communicate and tell the brand's story. The onus is on marketing managers to ensure this is done as sophisticatedly as possible, without diluting the brand image. And it is also about relationships. Over the next few pages, we have featured marketing managers and how they have played a critical role in building positive perceptions for their firms.