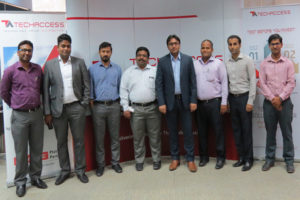 TechAccess has successfully concluded its first technical training session for new partners of Extreme Networks.
Partners were introduced to TechAccess' business model, given an overview of Extreme Networks' products and solutions, and received immersive training on basic switch configuration at the company's state-of-the-art Solutions Centre in Dubai.
Roshan Sequeira, product manager, Networks, TechAccess, said, "In an effort to boost Extreme Networks' regional reach and ensure a higher level of service to customers, TechAccess has taken on several new partners recently. We believe that induction and training sessions are a crucial element of our enablement process for new partners."
He added: "Sessions like this help partners understand vendor strategy and enable them to fully understand the focus and capabilities of the vendor's various products and solutions. We also take partners through the benefits of the TechAccess Partner Loyalty Program, so partners can make the most of their relationships with us."
The training session, which focused on basic switch configuration, is the first in a series of sessions that TechAccess has planned for partners of Extreme Networks. Members of the professional services team carried out the product and technical focus areas of the training sessions.
TechAccess added Extreme Networks to its portfolio of vendors in 2014. Extreme Networks offers a variety of wireless and mobility, switching and routing, and management and security solutions.