Adelle Geronimo reports from FOCUS 16 in Las Vegas, where Intel Security shared insights on the evolving cybersecurity landscape in the digital economy, and announced new innovations and strategies for the coming year.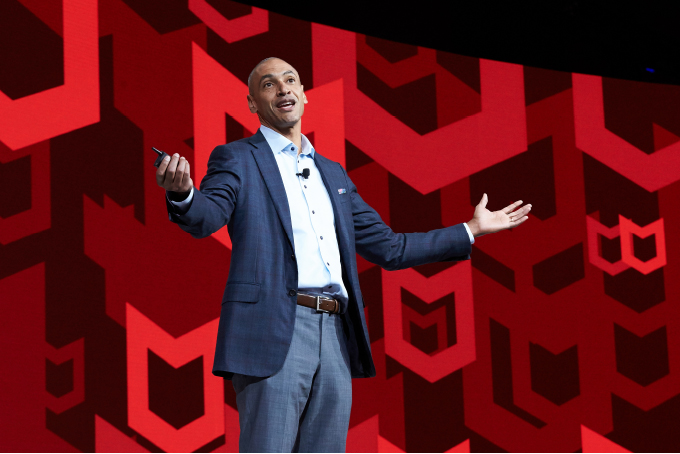 Intel Security brought together 3,500 security experts from around the globe to the Aria Resort and Casino in Las Vegas last month for its annual FOCUS conference.
Chris Young, Senior Vice President and GM, Intel Security Group, kicked off the summit by highlighting that no longer is our current economy a physical one, but one of connected networks and systems where cybercriminals have put us on the defensive. "This new second economy has put us in a world where more than money is at stake and where private and public sectors are fighting against time and working to justify trust," he said.
He added that cybercriminals today are forcing cybersecurity companies to redraft the rules of engagement for defending the civilised world. "To effectively counteract them, we have to abandon old security playbooks to become more unpredictable and collaborative and make cyber defence a priority. Our strategic charter is simple, yet disruptive: integrate, automate and orchestrate the threat defence lifecycle to drive better security outcomes – ultimately reducing more risk, faster and with fewer resources."
The 2016 edition saw big announcements made by the cybersecurity company. First among which is its enhanced unified defence architecture designed to enable organisations with effective security in the s new digital economy.
Built upon an open ecosystem that leverages a proven integration programme, Intel Security underlined that its unified defence architecture is enabled by four protection systems – Dynamic Endpoint, Pervasive Data Protection, Data Center and Cloud Defense, and Intelligent Security Operations – that are intelligently integrated to multiply effectiveness.
The second big reveal at the event is the new McAfee brand logo as its separation from Intel draws near. The company also announced the new tagline of the company – 'Together is Power,' when the transition is finalised in Q2 2017.
According to Young, the move to become an independent company is part of its objective to become "largest pure-play cybersecurity company" in the world. "More than that, we aim to not only be the largest cybersecurity company in the world, we also promise not to rest until we are the best player in this space. The reason being over the last few years many of you have pushed us to do better and enable you with more capabilities to solver today's cybersecurity challenges," said Young.
Intel acquired McAfee in 2011 for $7.7 billion to build security features directly into its silicon products.
The soon-to-be McAfee CEO also underlined that the move is driven by three key reasons – focus, innovation and accelerated growth. "Firstly, we want to be 100 percent focused on cybersecurity at a company level. Everything we will do from then will be targeted at helping our customers solve their cybersecurity challenges," explained Young. "Secondly, just like our company's focus our innovations will be centred on cybersecurity as well. Lastly, our industry is moving faster than any other sub-segment of IT and so we have to grow more quickly than any other players in this space."
As a standalone organisation, Young noted that the company will have around 7,500 employees globally with $2 billion in revenue. "Moreover, as we take the name McAfee for the new company we're looking forward to the future, and we're not looking back. However, what won't change with the 'new McAfee,' is our commitment to our strategies, products and partners."
Another key announcement made at the event is its OpenDXL initiative. Intel Security two years ago introduced McAfee DXL, a technology designed to enable instant communication between disparate security technologies from multiple vendors. Now, through an open source strategy and the beta release of a new software development kit (SDK) for DXL, the platform is open and accessible to "white hats" from both organisations and technology providers. "Through the OpenDXL security leaders will gain the ability to attach to a shared real-time communication fabric and exchange security intelligence as well as collaborate to create strategies for the optimal execution of the threat defence lifecycle," said Young.
Further into the event, Young also highlighted that Intel Security, over the last year, has invested over $500 million in research and development. The company had also expanded its workforce and on-boarded more engineers and product managers. In addition, the firm also announced that it increased its investments in user experience and developed 18 new products and integrations.