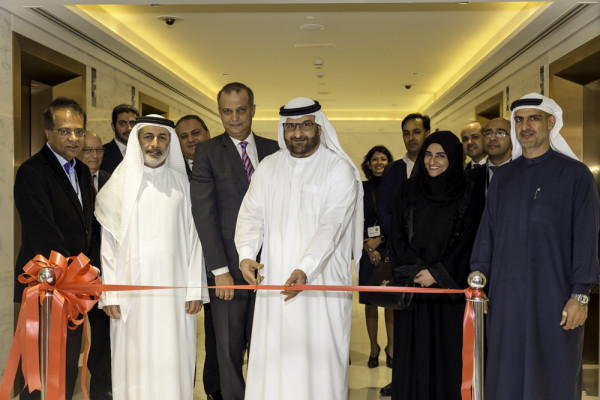 In an exclusive interview, the team leading the IBM Studios in Dubai gives CNME a low-down on the objectives of the company's new venture in the region and the value-add it can give to its customers.

For many years, IBM has been very successful in the hardware and software space. However, as times change and industries evolve, the company has been increasingly moving its focus on the design segment.
IBM is building a global culture of design and is continuously expanding its design team. To date, the company has more than 1,100 designers globally, with the goal of reaching 1,500 by 2017.
Recently, the company has launched the IBM Studio – Dubai, which according to them, will be the new centre of experience design and digital expertise to help its clients transform.
The Studio extends the footprint of IBM Interactive Experience, blending experience design with the full spectrum of business transformation capabilities, from industry and strategy consulting through systems integration. The IBM Studio – Dubai was inaugurated by His Excellency Abdulla Abdul Rahman Al Shaibani, Secretary General of the Executive Council of Dubai.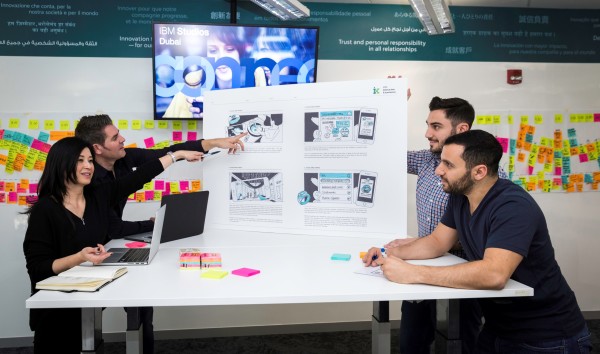 "In IBM we have five main business lines," says Mohammed Riaz, Managing Partner, IBM Global Business Services Gulf, Levant and Pakistan, "these include software products, hardware solutions, services, global finance, and research. Under research, there are two main business areas namely technology services and business services. Now, in the business services segment of the company, we have an area focusing on mobile and design called the IBM Interactive Experience (iX), and this is where the Design Studio falls under."
"IBM IX has a strong practice both here in this region and globally," highlights Saudamini Dubey, Partner, iX and Mobile Leader (MEA), IBM Global Business Services. "We are very much focused on ensuring that the output produced by the Studios in collaboration with our clients comes out as experience-led and design-driven products. The idea is to have a facility where members of IBM teams and clients can come together to co-create and deliver tangible products in an agile fashion."
Andie Brodowski, Head of Studio, IBM Studios Dubai, explains, "In our studios, we have a team with specific capabilities, which include customer service key strategists. These people are tasked to understand and assist IBM clients to achieve the experience they want to create for their respective customers in both the digital and physical channels. We also have on-site designers who specialise in user experience (UX) as well as in user interface (UI)."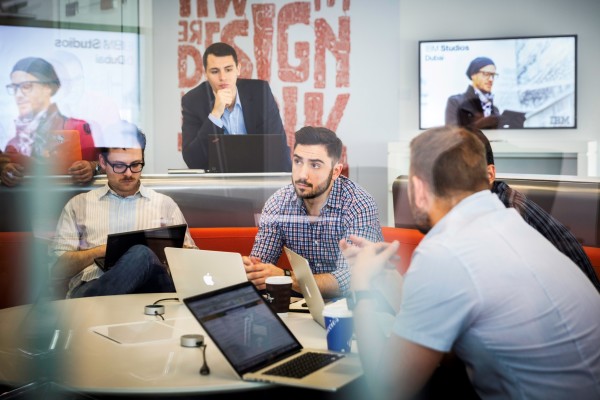 IBM has been well-known for most of its recent history as one of the world's largest computer companies. For many years, it has been viewed as exactly that – a computer maker. Over the years, the firm has transformed its focus into new business drivers such as mobile, cloud and analytics. "With the unprecedented growth of the mobile transformation across all industries, we wanted to stay on top of how enterprises and end-users are consuming services," says Riaz. "IBM has always been very committed to providing its customers with quality IT solutions. Now, the objective in starting the design studio was to provide our customers with interactive designs for these solutions that will enable them to create better customer experience; and this service is a very important part of IBM's long-term growth strategy."
Dubey highlights that the launch of the Studio could not have come at a better time. With the recent challenges the Middle East market is facing, companies will be on the look-out for innovations that will give them an extra edge over their competitors. "The Studio can help them gain the design capabilities that give the best experience for their customers," she explains. "Moreover, if you look at the Middle East and Africa region as a whole, a majority of its population consists of millennials. That factor also translates into new areas of opportunity for companies, as they will want to keep pace with the rising expectations of how they interact with their customers and employees."
Located in the Dubai Design District, the studio will serve as a hub for IBM Design in the Middle East and will host local teams from IBM Interactive Experience (IBM iX). "The key value proposition of the Studio is agile design and delivery. Our top two methodologies include IBM Design Thinking and IBM Agile Principles," highlights Brodowski. "What's great about the space that we built is that clients can come and actually see what the applications look like. We have fitted out the space to accommodate both teams from IBM and our clients to co-create the applications and solutions. We also have a facility where we can demonstrate the prototypes of the apps we have developed to our customers. Everything is designed to be collaborative in terms of design and prototyping. It is also designed to be fun, inviting and inspiring."
The Studio will be focusing on providing solutions and services to various verticals starting from government, telcos, healthcare, financial services, retail and more. "We've already had a lot of engagements from government agencies in the business to consumer (B2C) side," says Dubey. "However, from 2016 onwards business to employee (B2E) is going to drive a lot of demands. An increasing number of companies will also want to boost employee engagement, so we are expecting to get more inquiries from players in the travel and transport sector."
IBM's studio in Dubai joins the growing network of more than 20 IBM Studios in locations including Austin, Atlanta, Boston, Chicago, Toronto, Groningen, Melbourne, Mexico City, Hursley, London, New York, Dallas, Sao Paolo, Madrid and Shanghai.