Since moving to the UAE at the turn of the Millennium, Ghinwa Baradhi has fortified her position as a regional thought leader in technology and equal opportunity. HSBC's CIO for the Middle East, North Africa and Turkey is now championing the bank's digital transformation for the region, and is committed to seeing more women succeed in IT.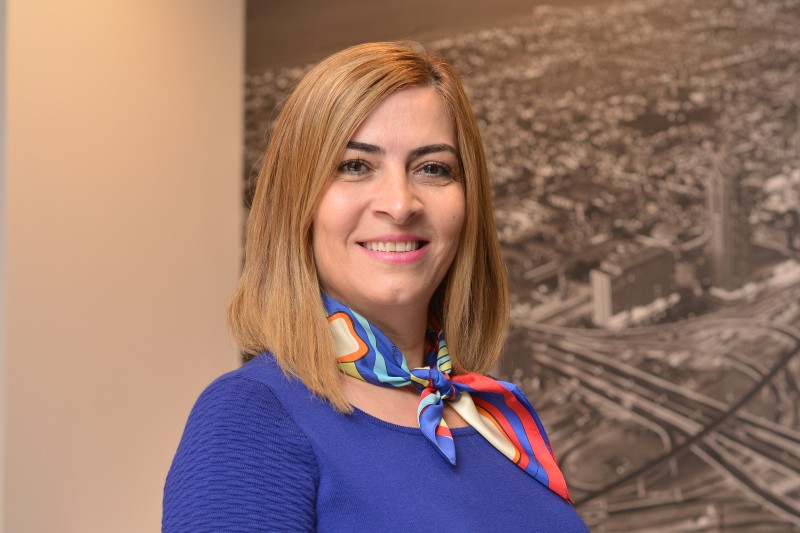 One of the first five students in Lebanon to graduate with a Master's degree in computer science, Ghinwa Baradhi has come a long way in her journey to becoming one of the Middle East's most globally-minded technology leaders. HSBC's CIO for the Middle East, North Africa and Turkey has gone on to become an advocate not only of technological transformation, but also of enhancing the role of women within the IT space across the world.
"When I reached university, computer science was still very new; mainframes were the cutting-edge technology back then," Baradhi says. "I quickly learnt that the hastening pace of advancement was creating a new landscape that would be based around technology. This is what drove my attraction to the subject – the journey of change." Beginning her career with Arab Bank in the 1990s, Baradhi was largely responsible for the firm's regulatory portfolio, as well as the Central Bank's risk repository for over five years.
As the turn of the Millennium neared, Baradhi joined Emirates Bank in Dubai. For the next seven years, she would fortify her experience in a range of specialist areas, including business intelligence, data warehousing, application integration, CRM and trade finance.
In 2006, Baradhi joined HSBC UAE as the regional head of IT operations. Her arrival at the company coincided with her completion of an executive MBA from the University of Bradford in the United Kingdom, the course testing her ability to juggle her studies and family life alongside her burgeoning career.
"I wouldn't be where I am today without the support and encouragement from my husband and two children," she says. "They are my primary source of inspiration for doing what I do. I know many women struggle to find their rhythm with work-life balance; I initially did too."
Much of Baradhi's early work at HSBC revolved around divestitures and migrating businesses to new buyers in the financial sector, her record of success catching the eye of the firm's regional management, who made her CIO for the MENAT region in August 2015. Two years into the role, Baradhi is committed to enabling business transformation enabled by digital technology. "HSBC is a global organisation with a local presence," she says. "In my role I work to shape and translate the group strategy into a regional-local roadmap, which supports our business and serves our customers on a country-by-country basis."Baradhi concedes that serving the broad range of markets under her remit is far from straightforward. "When you have to work across Egypt, UAE and Turkey, not to mention the range of other countries, it's not like being the CIO of one bank in a country-specific company," she says. "All the countries I oversee have different opportunities, challenges and cultures and I have to ensure I encompass all these nuances into our strategy and output while maintaining HSBC's proposition consistently around the world." The importance of Baradhi's role is evident when it comes to meeting the specificities of each country. "The 'why' and 'what' behind our digital strategy comes from HSBC Group , but when we want to execute something at a regional level, we have to take into consideration all compliance and regulatory requirements to ensure market demands are met," she says. "At the same time, we are working to maintain momentum and meet and exceed the modern banking needs of our customers in the digital age across the region. The reality is that customer expectations around banking have transformed and my IT team has to deliver the digital solutions to match."
Baradhi's main KPI for success is ensuring that customers get what they need, when they need it. Recently, HSBC UAE has simplified its mobile banking app through Touch ID on Apple devices, and has implemented Samsung Pay and Apple Pay services. Customers in the UAE can also apply for a personal loan online and receive approval within minutes, rather than days. Soon, they will be able to submit identification documents electronically rather than physically coming into a branch. "Customers need quick applications and practicality; they deserve a seamless experience," Baradhi says. "It's about embracing disruptive technologies and putting the customer at the centre of process and product development to ensure the end-to-end journey is frictionless, pleasant and secure."
With technology lifecycles ever-shrinking, operating in an industry as competitive as banking requires approaches that can deliver services quickly whilst staving off disruptive threats. "Technology is moving extremely fast," she says. "A couple of years ago, businesses had to submit requirements to IT and would be told in turn what specs they could get and at what cost. By the time you released something, you were already behind. Today, we have evolved our working styles to be more agile and continue to leverage advanced technology so we can deliver simpler, better and faster services." One way HSBC ensures it stays on the cusp of disruptive trends is by working in partnership with FinTech firms, who Baradhi believes are leading the way in real-time digital solutions. Baradhi is the HSBC executive sponsor of DIFC's FinTech Hive initiative. The programme enables startups and early-stage companies to develop and test their products and solutions with the UAE's top banks. She is currently mentoring shortlisted entrants by providing valuable insight and expertise into the banking industry.
In spite of her passion for emerging technology, Baradhi cautions that the promise of transformation should not tempt organisations into getting carried away with underdeveloped or experimental technology. "You need to be careful with adopting technology for the sake of it," she says. "It needs to meet customer requirements as well as give an improved customer experience. Yes, technology is an enabler to the business, but we shouldn't jump into it just because it's there. It has to be relevant, tested, secure and meaningful to both our customers and our businesses."
Regionally, HSBC is taking a tentative approach to Blockchain. "We've done the proof of concept for Blockchain for trade, but to implement it at a broader and global scale, it needs agreements from various parties involved in such transactions," she says.
Beyond the technicalities of transformative projects, Baradhi is playing a significant role in transforming the modern workforce to be more representative. She currently serves as regional co-chair for HSBC's Balance programme, which helps promote "gender intelligence" and she is part of the Diversity and Inclusion programme for IT across the entire HSBC group. Within Baradhi's team, 50 percent of line of business CIOs are women. However, she has no doubt that more needs to be done to give women the opportunities they deserve. "It is well known that IT is a male-dominated industry, both globally and regionally," she says. "There is still a perception that women aren't as capable as men in IT but it's been proven wrong by the movers and shakers shaping our industry, such as Ginni Rometty, Meg Whitman and Sheryl Sandberg. Things are changing."Back on home soil, Baradhi believes that although there is work to be done in increasing the number of women in IT, the UAE is on the right track in levelling the playing field.
"Women like Her Excellency Sarah Al Amiri, the minster of Advanced Sciences and Her Excellency Dr. Aisha Bin Bishr, the director general of Smart Dubai, are playing a huge part in this change," she says.
Reflecting on her career, Baradhi acknowledges that her ascendance to a global platform was not something she had initially strived for. "I'd never intended to leave Lebanon," Baradhi says. "I was happy with life there. But my move to the UAE was the best thing that I've ever done. I don't think I would have had the chance to advance my career and get the exposure and experience if I didn't expand my comfort zone both geographically and personally."