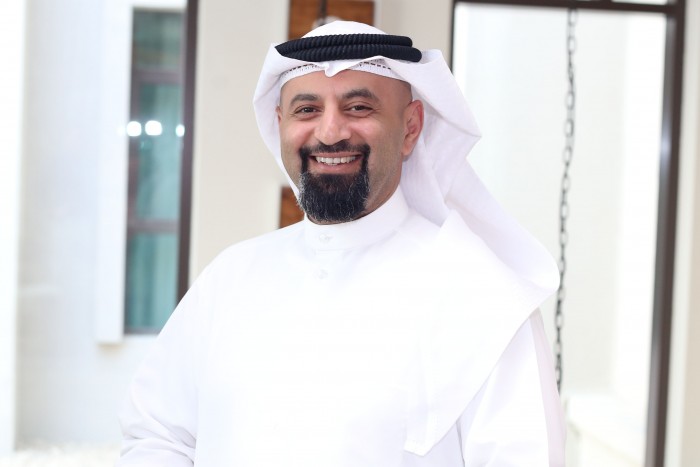 Tariq Al-Usaimi is an undoubted rarity in the Middle East. Now occupying one of the few chief digital officer posts in the region, he is determined to apply his extensive knowledge of Kuwaiti society and the banking industry at large to transform National Bank of Kuwait's future.
However, even he concedes that the exact definition of a 'digital' company is not always clear. "It's a tricky question," he says. "The optimum state for any company is to be completely paperless, and in a bank's case, having no paper currency or paper documents whatsoever. Until then, I don't think you can really claim to be completely digital. To an extent, being 'digital' it is a marketing slogan."
While going paperless may seem an achievable target for many startups, for most legacy firms – although huge progress may have been made in many areas – the transition could well take decades. Store rooms full of physical records are a fixture of most large companies across the world, and Al-Usaimi is aware that a shift in regulations, partnered with holistic digital approaches, are the only way to reverse that reality. "For any bank, it will take tens of years to go completely digital," he says. "If a document legally has to be stored for anything up to 45 years, then paper and storage costs – including rent, staff and electricity – are huge. Eliminating that cost will be hugely worthwhile, but regulations first need to be changed to allow that to happen."
Joining NBK in January 2016, Al-Usaimi had previously worked as chief information officer for Kuwait Credit Bank (KCB). His work at KCB had centred around the Bank's digital transformation, but he acknowledges that, in many respects, the move to NBK was a huge step up. "A lot of Kuwait Credit Bank's work revolves around consumer banking, and providing loans," he says. "National Bank of Kuwait undoubtedly operates on a larger scale, with much more work in corporate and enterprise banking, and across the whole banking spectrum." He adds that his role is now much more of a go-between for technology and the entire organisation. "My job is to plug the gap between IT and business," he says. "I am responsible for advisory services to the business in terms of going digital."
With so few organisations in the Middle East having appointed a CDO, the role's demands are still maturing, with many technology professionals still unsure of where the function sits within an organisation. One of Al-Usaimi's key duties is to act as the firm's eyes and ears for new and innovative ways that NBK can use technology to benefit its customers. "A large part of my work revolves around scouring the market to find ways that we can strengthen NBK, and see where the financial industry is heading globally," he says. However, one criterion takes precedence above all others. "The most important thing is to remain ahead of the curve. You have to work in parallel with market trends to ensure that you remain innovative, and can do things differently. Dollars and cents are not your target as a CDO. But neither is it a role driven by bits and bytes."
He also believes that the role is far removed from that of a CIO. "The CDO role is really defined by time to market, although having an IT background is advantageous in that respect," he says. However, retaining a strong working relationship with the CIO is a necessity. "I have a very close relationship with NBK's CIO," Al-Usaimi says. "All the groundwork is done in line with him, and we will always be sitting on the same table."
Given the CDO role's relatively recent addition to companies across the world, one could forgive Al-Usaimi for being overwhelmed by the uncertainty that inevitably surrounds the job. Does such a newly-defined role provide more freedom, or does Al-Usaimi find himself under increasing stress to deliver? "There's definitely of lot of pressure in the job," he says. "A CIO's KPI's are well defined, but there is no proven system in the market today that satisfies the success of a CDO." However, although the role – in a sense – lacks clear parameters for success, he does believe that business and banking leaders at large have woken up to the importance of a digital approach. "Brick and mortar businesses have suffered in the last 23 years, and that isn't lost on those at the top," Al-Usaimi says.
Any nerves aside, Al-Usaimi has been hard at work to make sure he puts the NBK CDO role firmly on the map. Revamping the user experience of the company's mobile app has been a top priority, along with the digitalisation of debit and credit cards, through the introduction of NFC technologies. "Our app is the main point of contact from the client to us," he says. "Our strategy revolves around putting an NBK branch in every customer's hand, so they can do everything through their mobile device. That means that they should be able to open a current account, or apply for a loan or credit card through the app."
Meanwhile, NBK have also rolled out interactive teller machines since Al-Usaimi's arrival, which he describes as a "very important" addition. "We've invested a lot in them," he says. "It's key that where you may not have the space to install a branch, you allow customers to interact with an account manager who can help them on the spot."
He has also made it a priority to tailor the services that NBK offers to ensure that the local market's nuances are satisfied, and that customers do not merely receive blanket services that are par for the course in other countries. "One of the most important factors in driving successful digital transformation is understanding the local culture and needs of your particular market," he says. I don't believe you can be successful if you fall short in this regard."
Al-Usaimi has carried that philosophy into the products and strategies he is developing at NBK, and has identified the key areas that the Bank can provide the best possible services for its customers. "You have to look at the way Kuwaitis learn, as well as our demographics; 70 percent of our population is youth-based," he says. "Young people generally want access to services through their debit cards or smartphones, usually in prepaid packages. Young couples who are getting married have different priorities, and are more interested in post-paid packages and loyalty programmes, and initiatives that can support them in getting loans for buying a home or raising a family. It's all a case of how you can offer these packages through digital initiatives."
The "youth-based" population of which Al-Usaimi speaks is also, in his opinion, a key reason why the Middle East is ripe for digital change. "The region's population is growing, and is increasingly comprising young people," he says. "They are less and less interested in face-to-face communication, and that should be a key driver for digitalisation."
By the same token, he unequivocally believes that a digital company must practice what it preaches, and have digital natives at its core. "It's not just a case of hiring them, but also the way you treat them," he says. "The most important thing for the young generation today is being valued. Programmes that show that they are valued are important. That's really the only way we can build a digital future."