Nissan Saudi Arabia: 138% Increase in Leads Generated through a Chatbot after Introducing a Verified WhatsApp Channel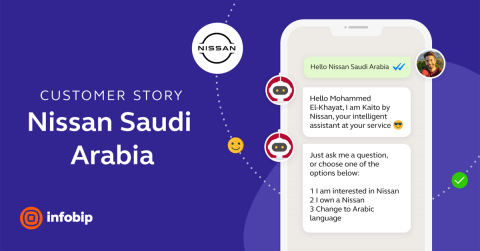 Stats
4.4-star

Customer satisfaction rate

71%

Increase in unique users

138%

Increase in leads
Finding the right communication method to cater to customers 24/7 in Saudi Arabia
Nissan Saudi Arabia prides itself in catering to customers' needs, creating positive interactions, and building a positive brand image by continuously adding quick, simple, and relevant solutions. The Customer Experience & Digital Transformation department in Nissan Saudi Arabia aims to develop comprehensive digital strategies by adding automated communication channels to increase customer engagement and enable digital customer journeys.
The Nissan Saudi Arabia team used a call centre as the primary communication channel with customers, where queries were routed from a website based chatbot. Due to working hours limitations, customers were not able to be catered to around the clock.
The previous chatbot introduced by Nissan Saudi Arabia was only available via one channel and accessed through their main website. By analysing the chatbot user behaviour, it was found that it was limiting customer penetration to Nissan Saudi Arabia's services and products.
Nissan Saudi Arabia became aware of how the delay in response time can impact customer experience. These challenges encouraged Nissan Saudi Arabia to adopt new communication channels to champion two-way communication with customers.
Build long-lasting relationships with customers over a verified WhatsApp channel
To improve customer engagement and support customers 24/7, Nissan Saudi Arabia added the AI-based chatbot service over a verified WhatsApp for Business channel. WhatsApp as a choice was due to the app's popularity in KSA as it is considered the Number 1 used communication platform with over 75% penetration rate.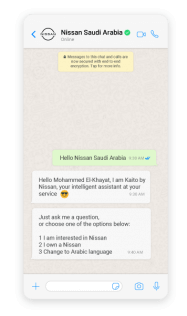 Nissan Saudi Arabia's dedication to digitalise the customer journey by decreasing waiting time and offering quick resolutions to customers' inquiries inspired the team to choose Infobip's WhatsApp Business API. Nissan Saudi Arabia trusted Infobip to add a verified WhatsApp channel to boost customer engagement through the full utilisation of the chatbot over website and social media channels experience.
Nissan Saudi Arabia chose Infobip due to Infobip's analytical capabilities and technical expertise. Infobip has catered to all Nissan Saudi Arabia's requirements with high flexibility and scalability and offered a secure platform that meets all Nissan Saudi Arabia's business communications needs.
WhatsApp Business API enabled Nissan Saudi Arabia to support customers 24/7 while catering to their automotive needs securely, offering always-on support, and sending updates in real-time. In November 2020, Nissan Saudi Arabia deployed WhatsApp Business API to enhance customer engagement, increase trust, and build long-lasting relationships with customers.
An average 4.4-star rating on the overall experience
WhatsApp Business API notably improved Nissan Saudi Arabia's customer reach by being available and responsive to customer inquiries night and day over the most popular communication channel in the Kingdom, WhatsApp. In the first three months of deploying WhatsApp as a verified communication channel, Nissan Saudi Arabia has witnessed significant adoption of the solution through customer engagement activities, customer satisfaction rates, and brand awareness measurements. Deploying WhatsApp Business API as a customer communication channel has resulted:
The WhatsApp channel has registered 18K unique users since the deployment of Infobip's solution.
625K exchanged messages in the first three months.
The WhatsApp channel has generated a total of 2.4K sales leads.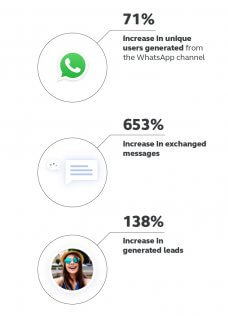 To ensure customer satisfaction and keep track of user experience, Nissan Saudi Arabia has shared a "Rate Your Experience" survey and received a 4.4-star average rating from over 3,500 Users. Nissan Saudi Arabia has also compared the website chatbot with the WhatsApp chatbot performance to result in:
71% increase in unique users generated from the WhatsApp channel.
653% increase in exchanged messages.
138% increase in generated leads.
Testimonial:
Mohammed El-Khayat, Deputy GM – Customer Experience and Digital Transformation at Nissan Saudi Arabia Co. Ltd.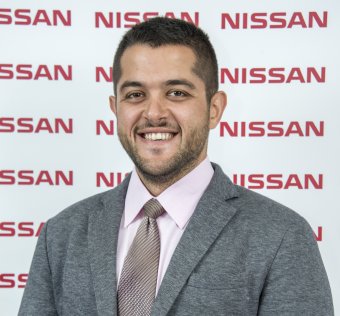 "Nissan Saudi Arabia's customer-centric approach is defined by studying the Saudi customer's buying behavior and coming up with solutions that provide the customer with the best shopping and ownership experience. The KSA automotive industry has gone through several changes. With the COVID-19 pandemic accelerating digitisation and impacting the industry, a 10% surge in VAT made the competition focus more on communicating offers, services, and deals, which customers are bombarded by regularly. The key to standing out in the automotive industry is identifying the market's need and developing solutions that make car buying, servicing, or inquiries a seamless customer journey. By digitally enabling the customer journey and launching this new chatbot service over WhatsApp channel, we have made serving our customers more accessible and convenient. Infobip has helped us develop the optimum journey for users to interact with the brand through WhatsApp easily. The technical expertise provided by Infobip has also allowed us to integrate it with our systems for smooth data capturing quickly".
To learn more about Infobip, visit: https://www.infobip.com/
To learn more about Nissan KSA, visit: https://en.nissan-saudiarabia.com/corporate.html