Memory Technology Middle East (MTC) signed a partnership agreement with the global ICT leader Huawei, to accelerate digital transformation for Small and Medium Businesses (SMBs) in the region, starting with the UAE.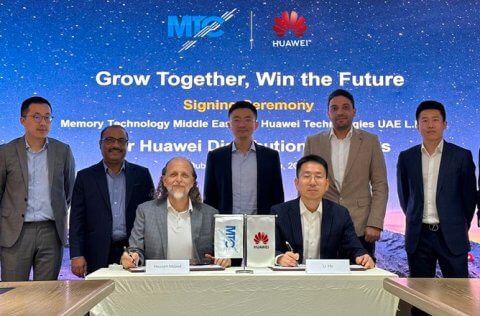 The partnership will enrich the technology products and solutions offerings for SMBs and empower their future business development and growth.
Under the terms of the new agreement, MTC will serve as a run-rate distributor to provide a comprehensive datacom SOHO (Small office/Home office) portfolio supported by the Huawei eKit platform.
The partnership with Huawei reinforces MTC's dedication to delivering cutting-edge technology solutions and exceptional service to its clients.
The new partnership offerings will cater to a wide list of SMBs, such as medium size hospitals, schools, supermarkets, restaurants, internet cafes, and much more.
Huawei has recently announced a major new distribution strategy that seeks to empower its partners to reach more SMBs and help them go digital by taking advantage of the most advanced products and technology solutions that can enrich user and customer experiences, improve operations efficiency, raise productivity, save costs and consequently enhancing their future business development and growth.
Huawei eKit is a one-stop platform integrating Huawei's policies, products, solutions, services, and digital tools for enterprise digital transformation. This platform has been structured specifically to assist distributors and their partner networks in reaching SMBs with competitive offerings.
Mr. Houssam Mobied, CEO of MTC and Mr. Brent Li, Managing Director of Enterprise Business Group, Huawei UAE, signed the Sales Framework Agreement for Distribution Business on behalf of the two companies. The signing ceremony was witnessed by Mr. David Shi, President of Enterprise Business Group, Huawei Middle East and Central Asia.
Commenting on the new partnership, Mr. Houssam Mobied, CEO of MTC, stated, "We are proud to establish this strategic partnership with Huawei, a global leader in the industry. This collaboration marks a significant achievement for MTC, and we are confident that it will propel our business to new heights. By leveraging Huawei's expertise, we will be able to provide added value to our customers through tailor-made SMB solutions. We are confident that joining forces with Huawei will contribute to SME's digital transformation and future business success in the UAE."
Mr. David Shi, President of Enterprise Business Group, Huawei Middle East and Central Asia, mentioned: "This agreement marks an important step forward to achieve shared success on the new distribution business in UAE. SMEs are a critical lifeline for the UAE and Huawei is committed to providing comprehensive technology solutions to meet their unique requirements through our strategic partnership with MTC. Together, we are confident that we will grow together and achieve business success."
Headquartered in Dubai, MTC is a leading IT distributor. Since its inception in 1998, MTC has continuously evolved in the IT distribution landscape, carving a niche for itself as the premier distributor in the MENA region.
As the digital economy gains traction, an increasing number of SMBs find themselves in urgent need of digital technologies so that they can boost their operating efficiency and revenue. For the global commercial and distribution market, Huawei has established business teams that work alongside partners to help SMBs go digital faster.
Industry leaders have recently highlighted the dangers of remaining analog laggards in an increasingly digital world. A number of leading economists and specialists in entrepreneurship agree that smaller firms must digitalize now or risk extinction within a short time.
Huawei provides a range of product portfolios and solutions that can help SMBs to focus on their business growth and achieve their goals. Huawei was named a Leader in the 2022 Gartner® Magic Quadrant™ for Enterprise Wired and Wireless LAN Infrastructure, the only non-North American vendor positioned in the Leaders Quadrant.