Huawei is bringing forth new industry opportunities and technological advancements driven by the AI wave with the launch of its new Pangu 3.0 Model.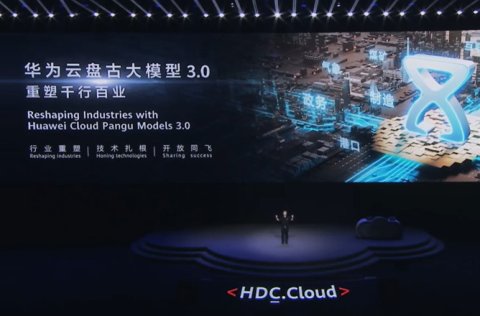 These innovations aim to empower industry customers and partners and unlock the potential of artificial intelligence for transformative growth across a range of sectors.
Pangu Models 3.0 is a system of pre-trained models that can be quickly adapted to meet scenario-specific needs and address complex challenges across multiple industries.
By leveraging large-scale data sets and machine learning algorithms, Pangu 3.0 is set to revolutionize the industrial application of AI in diverse areas such as weather forecasting, drug development, fault identification in trains, and the mining industry.
"Pangu should enable every industry, every enterprise and everyone to have their own expert assistant so that work is more efficient and easier. We always adhere to the AI for industries strategy and continue to move forward on deepening into vertical industries. I firmly believe that large models will reshape every industry, and every developer will become a world-changing hero." said Zhang Pingan.
Prestigious science journal Nature recently published a paper describing the enormous potential that artificial intelligence holds for weather prediction.
The paper described how Huawei's Pangu Meteorology Model team developed a precise and accurate global AI weather forecast system based on deep learning using 43 years of data.
With the ability to predict global weather within seconds, this AI-based solution surpasses the accuracy of traditional numerical forecast models by 20% while delivering results 10,000 times faster.
The model focuses on key elements and common time ranges, allowing for more precise weather forecasts. Notably, it has accurately predicted the trajectories and landing times of typhoons, including the recent Typhoon Mawar in May this year, demonstrating its exceptional capabilities.
On July 18, Huawei and Shandong Energy Group will jointly launch the first commercial case of Pangu Mining Model in Jinan, Shandong province. It is a ground-breaking solution that will enhance safety, efficiency, and productivity.
Traditional mining operations are inherently risky, requiring extensive manpower and posing significant technical and safety challenges. However, with the implementation of digital technologies, augmented by the Pangu Mining Model, the industry is witnessing a transformative shift. By importing massive amounts of data for model pre-training, the Pangu Mining Model enables unsupervised self-learning, covering over 1,000 sub-scenarios in coal mining operations.
From digging and drivage to machinery, transport, and communication, the model streamlines AI applications in numerous coal mining scenarios.
Transportation system failures in coal mines are a significant issue, resulting in decreased coal output and financial losses. Addressing this challenge, Huawei's Pangu Mining Model incorporates an AI-based intelligent monitoring system that accurately identifies exceptions in the transportation system, such as large coal blocks and anchors, with an exceptional accuracy rate of up to 98%.
The Pangu Mining Model can increase refined coal recovery rates by 0.1%. In a coking coal preparation plant that processes 10 million tons of coal, a 0.1% increase in refined coal yield can result in an annual profit increase of over USD1m.
The railway industry also benefits immensely from Huawei's AI advancements. Through the implementation of the Pangu Railway Model, the safety and efficiency of freight trains are significantly improved.
Previous fault identification processes within Train Freight Detection Systems (TFDS) have been labour-intensive, inefficient, and costly. However, with the introduction of the Pangu Railway Model, the process has been revolutionized. Accurate identification of 442 types of faults, with detection rates surpassing 99.99% for major faults and exceeding 98% for common faults, has been made possible.
These case studies exemplify the transformative power of AI in industrial applications. By harnessing the capabilities of Huawei's Pangu 3.0 and Ascend AI cloud services, businesses can unlock new levels of safety, efficiency, and productivity, driving substantial growth and competitive advantage in their respective industries.
Huawei's commitment to innovation and the development of advanced AI solutions underscores its commitment to providing cutting edge solutions for customers.