The City of Gold came in second place globally in the crypto ready index created by the crypto tax software startup Recap, just behind London.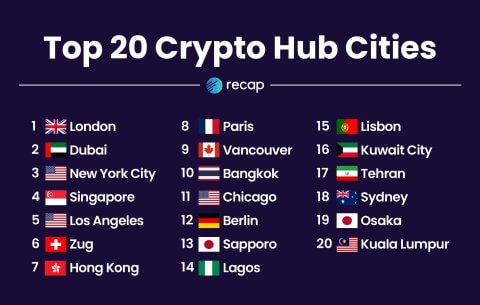 The index comprises eight criteria, including the number of crypto workers and companies, crypto meet-ups, quality of life score, and R&D spend as a percentage of GDP, in each city.
With 0% tax, Dubai is an appealing place to live for crypto investors, and offers a high quality of life for residents and expats, with a score of 175.84 – the seventh highest overall. The city's thriving crypto scene has attracted 772 crypto-based companies for residents to choose from when it comes to finding a career in the sector, with 869 currently in crypto-related jobs.
Following a year of multiple new laws for crypto exchanges to operate in the city, Dubai pushes to become the leading centre for cryptocurrency and blockchain technology in the Middle East.
Despite Dubai's efforts, London took first place as the leading crypto hub in the world. Along with having the highest number of people working in the crypto industry compared to anywhere else, London hosted the second highest number of crypto-related events and conferences throughout the year, and is home to over 800 crypto-based companies.
New York and Singapore also look like a force to be reckoned with in crypto-readiness, taking third and fourth place respectively.
The top 10 crypto-hubs in the world:
London, England
Dubai, UAE
New York, USA
Singapore
Los Angeles, USA
Zug, Switzerland
Hong Kong
Paris, France
Vancouver, Canada
Bangkok, Thailand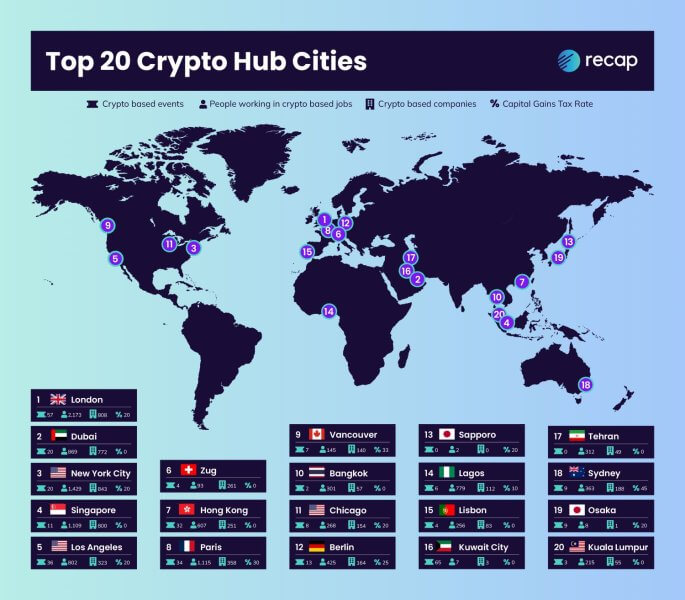 Daniel Howitt, co-founder and CEO at Recap, commented on the research:
"Crypto assets have grown massively over the past few years, and are becoming increasingly interlinked with the regulated financial markets, and the fact that so many cities are embracing it is a positive sign. Dubai being the world's second largest crypto hub is good news for the government, who plan to launch their own digital currency by 2026'."
"At the same time, our research shows that the world's least developed countries are significantly less prepared to become crypto-hubs. Lack of infrastructure, foreign investment, and skilled workforce in the area may explain why some are lagging behind. This could cause barriers to trade with more developed crypto-hubs in future – so it's important they're all given the opportunity to get up to speed."
"While Dubai excels in attracting crypto companies and jobs as a tax haven, the city falls behind when it comes to crypto events on offer and R&D spend. More investment in these areas could advance its position as a global crypto-hub."
He added: "The UAE has spent a lot of time positioning itself as a crypto hub, making a play at attracting entrepreneurs and startups to set-up shop. This could just be the beginning for Dubai – it'll be interesting to see how crypto grows over the next year, and whether or not Dubai can step up to first place."
The full report can be found here: https://recap.io/blog/the-rise-of-crypto-hubs-which-cities-are-leading-the-way-in-cryptocurrency