Anita Joseph met Dr. Mohammed Al-Kuwaiti, Head of the UAE Cybersecurity Council, on the sidelines of a joint media event by the UAE Cybersecurity Council in collaboration with KPMG Lower Gulf, to find out more about what the future holds for the UAE in terms of technology and digital growth.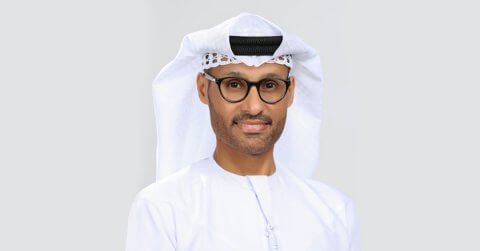 "Human resource is our biggest strength. As we move forward in the technology-powered world, we will continue to invest in people, equipping them with the necessary skills to take on a digital tomorrow and ensure safety of digital assets," said Dr. Mohammed Al-Kuwaiti, Head of the UAE Cybersecurity Council, speaking exclusively to Tahawultech.com
He was participating in the "Cyber Next 50: Securing the UAE's 2071 vision", a joint media event by the UAE Cybersecurity Council in collaboration with KPMG Lower Gulf, on an upcoming joint report highlighting major trends expected to impact life in the coming decades.
"The UAE today is a global hub of dynamism, with a happy and harmonious society. It has been a privilege to witness the UAE's rapid transformation over the years, and we look forward to its continued advancement in digital and cyber innovation. As the UAE looks forward to its Centennial in 2071, we had an opportunity to pause, examine how the world might evolve over the coming decades, and how we can leverage technology to optimise outcomes for humanity," Dr. Mohammed said.
He added, "The UAE stands as a dynamic global hub, characterised by a harmonious and contented society. Witnessing the UAE's remarkable transformation has been a privilege, and we eagerly anticipate its continued progress in digital and cyber innovation. As we approach the UAE's Centennial in 2071, we have taken this opportunity to pause and contemplate the future's evolution and how technology can optimise outcomes for humanity. We all know that the seeds of tomorrow are sown today and that we have an extraordinary chance to shape a safer world for future generations. We eagerly look forward to taking the nation on a path of unprecedented growth and technological advancement in the next five decades and beyond."
The upcoming report, set to be unveiled soon, casts a spotlight on megatrends poised to impact life in the approaching decades, encompassing demographic shifts, climate change, and burgeoning energy consumption. With a projected global population of 9.7 billion by 2050, diverse societal risks loom over various regions. Climate change exacerbates food security challenges, contributes to population displacement, and precipitates ecosystem degradation. As global energy consumption is slated to surge by 50% by 2050, the importance of renewable energy sources and enhanced energy efficiency is more pressing than ever.
Dr. Mohamed Al Kuwaiti emphasised that these challenges mandate concerted efforts to confront and mitigate their repercussions. Simultaneously, he underscored hope that technology represents for a brighter future. Anticipated technological advancements encompass artificial intelligence, hyper-connectivity, bioengineering, quantum computing, space technology, robotics, smart manufacturing, augmented reality, and nuclear fusion.
The report anticipates a future where immersive virtual reality blurs the lines between reality and fiction, businesses thrive in the virtual realm, and data assumes the role of currency. Robots seamlessly integrate into our daily lives, spanning personal care to military applications, while AI evolves to predict and shape the future. Machines may even gain the capacity to decipher human thoughts and manipulate DNA.
KPMG experts meticulously examined contemporary social, economic, and political trends alongside emerging information technology trends. They synthesised these insights into a series of "Imagine if" scenarios, exploring the potential socio-political ramifications of technological leaps. These scenarios encompass themes like virtual worlds, robotics, and AI.
The report envisages a future where integrity takes center stage, ushering in transparent supply chains and elevating cybersecurity as an indispensable facet of national defense. The definition of humanitarian aid may evolve to encompass 'cybersecurity aid' as cyber-attacks increasingly imperil vulnerable populations with limited resources.
By 2071, the quality of life and happiness will be intricately linked to a secure and seamless hybrid of the physical and digital realms, where citizens can freely engage, work, and revel in their pursuits. Already acclaimed as the happiest place to reside in the Arab world, according to the latest UN World Happiness Report 2023, the UAE must adapt its cybersecurity legislation to navigate the challenges of the next five decades effectively.