Middle East, 27th December 2020 – According to IDC's latest whitepaper Leveraging the Autonomous Driving Datacenter Network Index sponsored by Huawei, over 90% of enterprises claim that they pursue fully autonomous networks for service agility, flexibility, and cost-effectiveness. As highlighted in the report, the autonomous driving data centre network helps enterprises reconstruct the network architecture, operation mode and enhance service resilience. The report also provides suggestions on how enterprises can achieve comprehensive automation, regardless of their current DCN automation levels.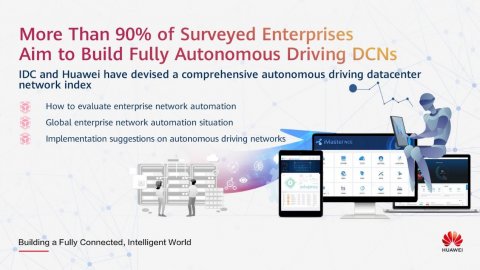 To understand the automation level, challenges, and opportunities of enterprise data centre networks, Huawei commissioned IDC to survey the current status of data center networks of 205 enterprises in different industries. The survey explored different network scales, defined the levels of data center network automation, and explored the feasible ways to implement full automation.
IDC asked respondents to identify what was driving their need for data centre network automation. At the top of the list was application and business continuity and resilience, which was cited by about 45% of respondents. IDC believes this result was accentuated by the COVID-19 pandemic, which has caused organisations to prioritise business resilience and continuity as they focus on keeping the digital lights on during an unforeseen crisis.
However, from the industry perspective, all surveyed industry customers are performing data centre network automation or have plans to do so. Only 40% of government customers have deployed or are deploying data centre network automation, which lags behind other industries. In terms of scale, enterprises with three or more data centres will go further on the road to network automation. According to the survey, 72.5% of the respondents said that they have deployed or are deploying network automation.
IDC asked respondents whether a fully autonomous (driving) data centre network was a goal for their organisations. Nearly 91% indicated that it is a goal in more than two years, and 9.3% of respondents indicated they had no plans for a fully autonomous data centre network.
To help enterprises determine the automation phase and achieve full network automation, IDC and Huawei devised the data centre network index. Through five automation levels, this index covers each phase from non-automation to full automation. The index also provides a measurement standard for the data centre network autonomous driving level based on the network lifecycle requirements.
Leon Wang, President of Huawei Data Center Network Domain, said, "We highly appreciate the survey and research of IDC. The release of the data center network index is very important and points out the direction for the development of the entire industry. Although data center networks of different enterprises have different autonomous driving levels, customers in various industries are actively embracing automation to achieve service agility and reliability while reducing OPEX and CAPEX. Huawei will continue to invest in technologies, applications, and ecosystems, continuously improve the data center network autonomous driving level, and maintain its leadership position. Huawei will help enterprises build autonomous network systems and accelerate digital transformation".