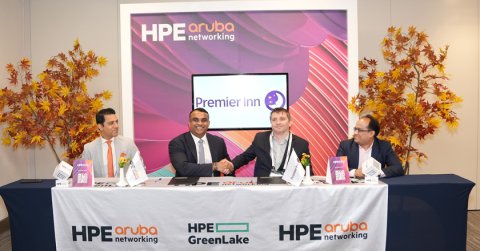 Premier Inn, a leading British hotel brand with hotels in several key regions including the United Kingdom, Germany, United Arab Emirates, and Qatar, is making significant strides in elevating guest experiences.
With a portfolio of 11 hotels in the region, Premier Inn has consistently offered top-notch accommodation. Recently, Premier Inn Middle East has announced a transformative collaboration with HPE Aruba Networking to enhance their digital hospitality offerings.
Premier Inn's unwavering commitment to delivering exceptional guest experiences is bolstered by a cutting-edge network infrastructure. Through the adoption of HPE Aruba Networking EdgeConnect SD-WAN, the hotel chain harnesses the power of technology to redefine the digital experience offered to its guests. This partnership empowers Premier Inn Middle East to offer seamless and secure connectivity, from the edge to the cloud, enhancing guest interactions and satisfaction.
HPE Aruba Networking EdgeConnect SD-WAN offers several key benefits to Premier Inn. It streamlines their infrastructure by consolidating various networking functions, reducing the reliance on multiple devices like WAN optimisation, routers, and firewalls, ultimately simplifying network management and minimising equipment sprawl. Additionally, the solution offers zero-touch provisioning through central orchestration, automating the configuration of settings and security parameters across all 11 locations without the need for on-site IT expertise, ensuring consistency and reliability throughout the network.
Will Douglas, IT Director at Premier Inn Middle East said: "At Premier Inn, we've always been dedicated to providing our guests with the best possible experience. Our partnership with HPE Aruba Networking and the implementation of EdgeConnect SD-WAN represents a leap forward in our journey to offer the ultimate digital hospitality. With this advanced technology, we're ensuring that guests enjoy a comfortable stay and have seamless, secure, and unparalleled connectivity, enhancing their overall satisfaction during their visit".
Commenting on the partnership, Zeeshan Hadi, Country Manager, Middle East and Africa at HPE Aruba Networking, said: "Premier Inn is a brand known for its unwavering dedication to excellent service. We are delighted to support them in their efforts to revolutionise the hospitality industry. By leveraging HPE Aruba Networking's cutting-edge networking solutions, Premier Inn will be able to deliver flawless, secure, and unforgettable experiences to its valued guests".