Intel Evo-certified laptops from ASUS are made to help you get things done―at home or in the office or on the go. With their superior performance, battery life, and thin-and-light designs, ASUS laptops powered by Intel Evo are the best companions to create your holiday memories.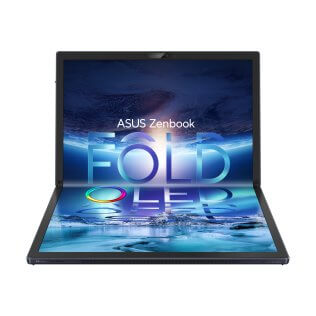 There are three from the lineup that standout:
The ZenBook Duo 14 UX 482 laptop features a 14" FHD and super slim 4mm NanoEdge bezels on all 4 sides which give it an incredible screen-to-body ratio of 93%. It also boasts an innovative ScreenPad Plus feature, a secondary touch screen that automatically tilts up to a 7-degree angle, reducing glare and reflections for improved readability. The pad can also be used to adjust brightness, swap tasks, keyboard lock, and as a link to MyASUS which allows for phone calls and mirror functionality.
The ASUS ZenBook Flip S UX371 is a fully loaded machine with all the bells and whistles, including a 13" OLED 4K UHD touch screen and mini dock HDMI port, but it only weighs 2.65 lbs and has a profile smaller than 14 mm. It's ErgoLift technology tilts the keyboard automatically when opened, and the hinge has been durability tested for over 20,000 open/close cycles.
The ZenBook S UX393 features a touch screen monitor with an ultra-wide color gamut and 3,300 x 2,200-pixel resolution. It's slimmer than most laptops of its kind and boasts a tall 3:2 aspect ratio display for more dynamic display space, ideal for productivity applications.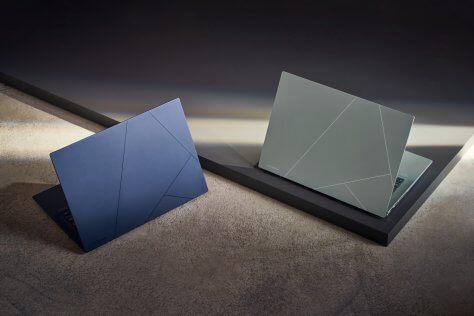 What makes them unique is that their 11th & 12th Gen Intel Core processors and Intel Iris Xe Graphics deliver 3x faster photo- and video-editing. Intel Wi-Fi 6 offers file transfer speeds up to 3x-faster than standard Wi-Fi. Count on 9+ hours of battery life on FHD laptops so you can work anywhere. Intel Iris X Graphics and razor-thin bezels make screen time more enjoyable. Moreover, they wake in less than a second and 40% more responsive than a two-year-old laptop. Thunderbolt 4 provides 40 Gbps bandwidth for data and video via a single-cable connection.
Intel Evo laptops come in portable sizes of anywhere between 12 and 16 inches. Their thin and light bodies help make sure that you can easily carry them wherever you go.
Nowadays, video calls are our bread and butter―a nearly daily occurrence for most laptop users. The Intel Evo laptops from ASUS come equipped to enhance your online collaboration experiences and make video calls a breeze, with features such as:
1.     Fast, Smart Internet Connection
To ensure a smooth video call, you need fast connections. ASUS Intel Evo laptops feature the latest Wi-Fi 6E technology for low-latency, reliable communication.
2.     Uninterrupted Video Calls
During an online meeting or when calling your friends or family, you want to be seen and heard clearly. Your partners can see you clearly thanks to the 1080p FHD front-facing camera and video-enhancement software that helps optimize the image to help ensure you look your best.
To help further, ASUS laptops come with AI noise-canceling audio technology to ensure the best experience. This employs machine learning in order to isolate unwanted noise from human speech. The ClearVoice Mic feature in the MyASUS app can filter out ambient noise, and normalize all individual voices in multi-presenter mode from different positions for optimum group conference-call quality. The ClearVoice Speaker feature filters out all ambient noise apart from human speech — so you'll hear what everyone else is saying.
The Intel Evo lineup of laptops from ASUS perform at the highest level. These devices feature a latest-generation high-level CPUs (Intel Core i5 or above) and Intel Iris Xe graphics cards. All ASUS Intel Evo-certified laptops also pack plenty of memory, with at least 8 GB of RAM. You can also be sure you'll have space to store all the files you need and access them quickly, thanks to at least 256 GB of SSD storage.
The new Intel EVO platform is made up of laptops that meet certain standards based on usability in real world situations. These requirements include "Key Experience Indicators" (KEI) like battery life, charging speed, and system responsiveness, as well as specifications like Wi-Fi 6 compatibility, and 11th Gen Intel Core i5 or i7 CPU with Intel Iris Xe integrated graphics. These highly portable laptops are perfect for work or play on the go. Satisfying the Intel requirement for Evo certification, ASUS ensures that these laptops stay responsive and perform smoothly and without freezing while running 25 common tasks — all while on battery! Even between the charges, your laptop will allow you to multitask and run plenty of software at once without freezing or crashing. Strong CPU and plenty of RAM, as well as other optimizations of both hardware and software, all contribute to this being the case.
The Intel Evo laptops from ASUS feature at least one high-speed Thunderbolt 4 connection and other USB type-C ports to enable you to connect to most modern accessories without latency.
All ASUS laptops equipped with 12th Gen Intel Core CPU and certified with the Intel Evo badge feature a bright, colorful OLED Full HD display. These screens are packed into a thin bezel format that makes sure your viewing space is maximised.
Engineered with the modern lifestyle in mind, these laptops are the perfect companion for all your digital needs.
To know more about these laptops and to buy them, visit: