The ASUS ExpertCenter D7 SFF has everything you expect from a modern-day computer: Not only does it deliver high-performance and enterprise-grade security & management, but it is also encased in an ultra-compact and sleek package, so business users can have a flexible and neat workspace. Built to last, it meets MIL-STD-810H US military standards and offers a highly expandable-chassis, ensuring long-term reassurance and easy future upgrades for professionals.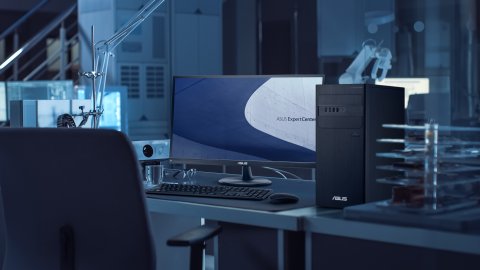 To make light work of all your business tasks, ExpertCenter D7 SFF is powered by a cutting-edge 12th Gen Intel Core processor with the latest DDR4 RAM. Up to three displays can be used simultaneously without adding an extra graphics card. It also supports professional-grade graphics cards for those requiring advanced graphics performance for demanding visual tasks.
Whether you want to save space, create a tidy workspace, fit more computers into offices or connect more business peripherals, slim and compact ExpertCenter D7 SFF is made for you. To ensure both consistent performance and minimum noise from a small package, we optimized D7 SFF's thermal design by creating dedicated isolated air chambers for PC's main heat generators to prevent heat pooling inside — ensuring quiet operation even during its highest performance.
Designed to fit any workspace, ExpertCenter D7 SFF has a modern, compact, and stylish small-form-factor chassis that can stand either vertically or horizontally. So, for example, you can place a monitor beside it or on top of it — the choice is yours!
The ExpertCenter D7 SFF is available with professional-grade NVIDIA graphics to help you elevate your craft, whether you're creating short online videos, full-length features, animation or 3D modeling, or graphics design.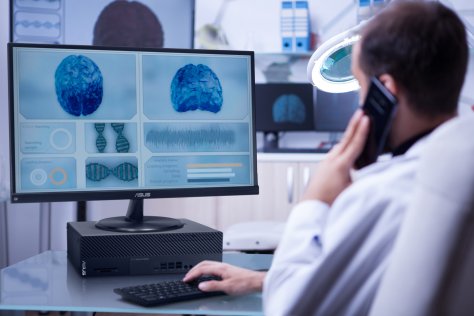 To level up professional conferencing, ExpertCenter D7 SFF has two-way AI noise-canceling technology that employs sophisticated machine-learning techniques. The technology includes both an upstream function to filter noise around the speaker, and a downstream function to eliminate noise from the person at the other end of the conversation.
A full array of I/O ports is ready to connect to a wide range of business peripherals. It has seven front-mounted USB ports — including one USB Type-C (USB-C) ports for quick and easy access. Flexible serial and parallel ports on chassis leave more PCI Express slots available for additional upgrades. A smart-card reader and an SD card reader are optional for easy transactions, data transfer or other business-related tasks.
A clever internal layout gives maximum space for expansion in a compact form factor. The internal steel case allows ExpertCenter D7 SFF to accommodate up to four storage devices, while PCIe slots enable the easy addition of graphics cards, Wi-Fi connectivity and extra I/O ports. ExpertCenter D7 SFF is easy to configure today, and ready for whatever you might need tomorrow.
Where to buy: ExpertCenter D7 SFF (D700SD)|Tower PCs|ASUS Middle East