Anita Joseph caught up with Samer Semaan, Channel Manager, Middle East at Pure Storage, to find out how the company is disrupting data protection and storage with its cutting-edge technology.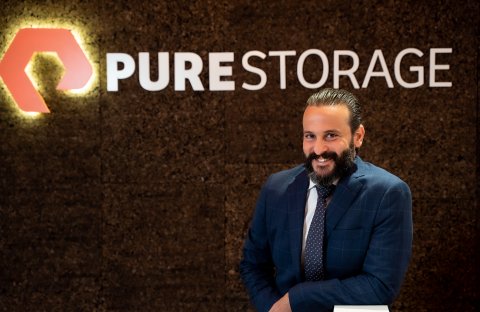 Tell us about Pure Storage's expansion plans
Pure Storage is redefining the storage experience and empowering innovators by simplifying how people consume and interact with data. One major area that Pure Storage is focusing on today, is expansion and growth, especially the emerging region where the Middle East is a big part, brings a lot of value and we have a good market share compared to year-on-year. We are fast growing in the regional market. Then again, when you grow, your team also has to grow. It is critical to have a 'parallel' growth to sustain momentum. This is where we're growing in 4 major countries: UAE, KSA, Qatar and Egypt as a major pillar for us to focus on. These are countries that we have a local presence with a full-fledged team based there.
With enterprise data storage and digital transformation in the spotlight now, how is Pure Storage helping to disrupt the market?
Pure is a pioneer, from the all-flash data center to the most modern data-protection solutions and the Evergreen subscription models. When it comes to data storage, as they always have been, all our solutions are based on All-Flash technology. This simplifies things. Flash technology is fast, seamless and effective. An all-flash array (AFA), also known as a solid-state storage disk system or a solid-state array, is an external storage array that uses only flash media. Flash memory is used in place of the spinning hard disk drives (HDDs) that have long been associated with legacy networked storage systems.
This technology is what's disrupting the market. We make customers see the value in what they're doing and be rest assured that Pure Storage will ensure customers have the most up to date solutions through the regular updates provided with Evergreen. Our aim is to make data management easier, simpler, reliable and secure for our customers. A lot of computing has been made very automatic, but data storage is still very physical. We're trying to bring storage up to the same level of modernization as network or computing. What we're showing by consistently outperforming the market is that storage is high technology and customers care about advancements. At the end of the day, the right strategy matters.
Tell us about Pure Storage's channel partner program
Pure Storage has been completely channel centric and providing a world class partner program has been critical to its success. In order to deliver continuous improvements to the program, Pure Storage aligns partner feedback, customer needs, and its company strategy to advance its program in ways that help partners drive faster, smarter, and more innovative business.
Our partners are essential to achieving our mission of meeting global business and technology needs, which is why our partner program is evolving  in step with Pure Storage's move as a services-led company. We're proud of our partner programs, delivering unmatched simplicity, flexibility, and value to our partners so we can continue growing together.
Sustainability is the buzzword now. How is Pure Storage integrating sustainability into its identity and operations?
Sustainability has been a part of Pure Storage's DNA from its inception as a disruptive innovator in the storage industry. As sustainability and energy savings become increasingly critical to organizations around the globe, Pure Storage continues to invest in helping customers achieve their environmental and energy reduction goals.
With the launch of the FlashBlade//S family of products, Pure is delivering more than double the power efficiency of previous versions. Because of unique design decisions – including Pure's DirectFlash technology, built-for-flash software, always-on deep compression, and Evergreen architecture which can achieve energy savings unlike any competitive storage systems on the market.