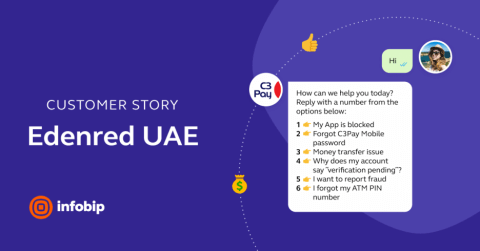 CHALLENGE
Growing customer base led to the need for new tools, channels, and automations
Before Infobip, Edenred UAE relied on email as a quick and economical way to solve customer queries. However, the payroll service provider had limited visibility into key metrics such as first-response time, average handle time, or customer satisfaction. Edenred UAE also had manual dedicated queues to action high-priority queries and no self-service capabilities in place.
As the payroll service provider's customer base grew from 1 million to 1.5 million cardholders within a few months, customer support activities became increasingly harder to handle and track.
Edenred UAE decided it was time to implement new tools that would help scale its customer service without compromising on user experience and increasing costs.
SOLUTION
Automating customer service with Infobip's cloud contact centre and chatbot building platform
To address the challenges to date, the payroll service provider decided to use Infobip's Conversations and Answers to provide self-service options for money transfer queries over WhatsApp.
Through Answers, Edenred UAE created a multilingual chatbot that can resolve common queries using multimedia – and is available 24/7. And, when used in combination with Conversations, the chatbot can transfer complex queries to an agent with the right experience without losing conversation history or context.
Additionally, through Conversations, Edenred UAE has insight into the analytics it needs to improve its customer support overtime, including first response time, average wait time, CSAT scores, and more.
After using WhatsApp as a channel for money transfer-related queries through Conversations and Answers proved successful, Edenred UAE decided to substitute email with the chat app for all customer service queries moving forward.
RESULT
Scaled customer support, decreased wait time, and higher customer satisfaction
By using Infobip's chatbot building platform and cloud contact center to set up a WhatsApp chatbot, Edenred UAE was able to rapidly scale its customer support.
The payroll service provider also managed to improve its average handle volume and tripled the number of customer queries handled in a month.
Edenred UAE's chatbot led to 69% of the company's chats in September and October being self-serviced, and only 31% being transferred to agents due to complexity. In addition, all chats were answered and resolved on WhatsApp within the first 48 hours – decreasing the company's average wait time by 96%.
Edenred UAE also surveyed 667 of its users to obtain insights about WhatsApp as a customer service tool, where 62% of Edenred UAE customers claimed they prefer to get in touch via WhatsApp, and over 70% stated they were able to find the answers they were looking for on WhatsApp easily.
All in all, Edenred UAE was able to scale its customer service team in a way they couldn't with email, which led to an increase in overall customer satisfaction.
Testimonial
Abdullah Khan
Customer Service Team Lead, Edenred UAE
Infobip was a gamechanger in helping us digitally transform the way we communicate with customers. Conversations and Answers helped us deliver a seamless customer experience over WhatsApp – using a chatbot to solve 69% of common queries and effortlessly transfer complex queries to agents decreased our average wait time by 96% and improved our customer satisfaction.