Commvault, an enterprise data protection leader for today's global businesses and one of the first data protection vendors to introduce cyber deception, has partnered with AlJammaz Technologies in the Kingdom of Saudi Arabia (KSA). AlJammaz Technologies will now become an official Commvault Value Added distributor in KSA following the agreement, which will help drive digital transformation, improve data protection and increase cyber security for a wide range of businesses.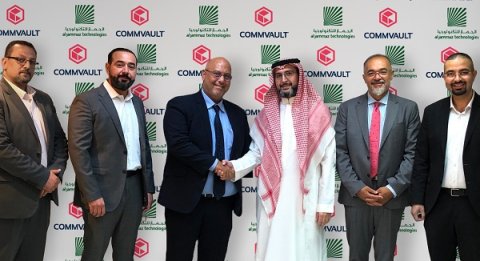 Organizations in Saudi Arabia fell victim to some of the highest number of ransomware attacks out of all GCC countries between mid-2021 and mid-2022[1]. Many businesses in Saudi Arabia are continuing to invest heavily in digital transformation, with cloud infrastructure remaining the most important component to safeguard. Commvault has recently redefined data protection to include early warning technologies that help to secure against threats before they happen, defend enterprise data if the environment is breached, and ensure recoverability so customers and their data remain resilient in the face of evolving cyber threats.
Offering early warning, in-depth threat monitoring, and cyber deception for production and backup environments that is unique to any solution on the market, Commvault can detect threats in as little as five minutes versus the industry average of 24 hours. Through early detection of zero-day and insider threats, Commvault technology helps protect data against breaches and cyber-attacks.
Sameh Hassan, KSA Country Sales Manager, Commvault commented: "We have a new arsenal of capabilities that gives businesses a clearer line of sight into vulnerabilities and will protect their data across active and backup environments, including on the cloud or on-premises, so they can meet sophisticated cyberthreats head on. By partnering with organizations like AlJammaz Technologies, we will be able to provide wider and deeper support to businesses across multiple sectors within KSA. We look forward to a long-term partnership to help protect organizations from increasing ransomware threats, whilst enabling businesses to accelerate their digitalization journey."
Adel Qahwash, General Manager, AlJammaz Technologies, said: "We are proud to partner with Commvault, an industry-leading player in the data protection and cyber security space. Many businesses in KSA are in need of greater data management solutions and Commvault's technologies will help create enhanced security, efficiency and business sustainability."
Amr Elkessi, Regional Channel Manager – Middle East, Commvault added: "Commvault is committed to working with channel partners in KSA to support the long-term strategy of the country and Saudi Vision 2030. Our technologies help accelerate innovation, whilst protecting companies most valuable assets – data."
Commvault has extensive experience in the region, having worked with key organizations including MEEZA, Bein Sports, Al Jazeera, Emirates Steel, Dubai Police and Dubai Municipality in UAE. Commvault has also worked with leading players in regional Telco, Finance, Government and Education sectors, including Saudi Telecom Company (STC) and Jeddah University in KSA, Garanti Bank and DenizBank in Turkey as well as Blue Label Telecoms in South Africa.
Commvault's latest security innovations will be available in Q2 through Commvault and its worldwide ecosystem of partners. For more information on Commvault's integrations, visit the Supporting Technologies page.