Adelle Geronimo takes Microsoft's latest 2-in-1 for a spin and found out why there's more beneath the "surface."
Surface Pro 2017 is the fifth iteration of Microsoft's convertible tablet-come-laptop offering.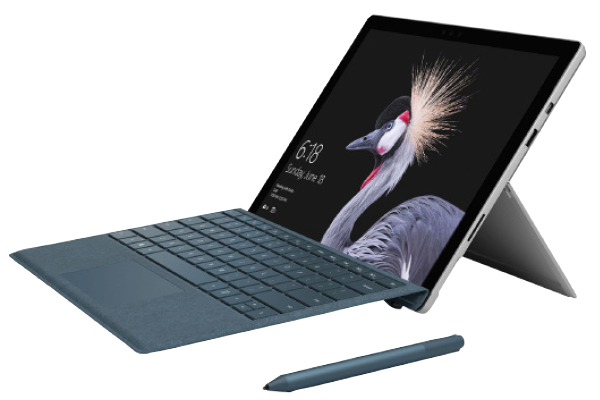 The device doesn't look significantly different from its predecessors, however, it packs impressive power under the hood.
It maintains its slim metallic case, which is still pretty attractive and sophisticated. This time it has slightly rounded device's edges making it more comfortable to hold.
Surface Pro's i7 model weighs around 784g, which is a bit hefty for a tablet. But notably, the i5 version is a bit lighter with its fanless design.
The iconic kickstand remains as a key feature for the Surface Pro, and now it can be lowered even further to 165 degrees. Microsoft calls this orientation "studio mode," as it's ideal for digital artists to use for sketching and designing. This makes the device compatible with Microsoft's Surface Dial, which was previously an exclusive feature for the Surface Studio.
It comes with an Alcantara fabric coated snap-on keyboard component, which has enough key travel to type comfortably and a smooth, wide touchpad.
The Surface Pro packs in vibrant 12.3-inch PixelSense display with a sharp 2736-by-1834-pixel resolution, which translates to a pixel density of 267 ppi. It is ideal for viewing high-resolution images and watching  high-definition videos. However, the 3:2 aspect ratio is a bit passé in a world of widescreen laptops.
Aesthetically the Surface Pro 2017 is simple yet satisfying but under the hood is where all the good stuff are.
The device runs Windows 10 and for obvious reasons it is powered by Microsoft's OS. In addition to all the usual interface tools – start menu, home screen, taskbar, Cortana, there's also tight integration with the Surface Pen. Click the back of the pen to fire up a creator bar on the right. This gives you access to an on-screen Post-it note of sorts, a page to doodle on or other customisable pen-centric shortcuts.
The 2-in-1 is equipped with Intel's seventh-generation CPUs, which, in addition to being faster than the last model, also add new features like hardware 4K video decoding
Surface Pro 2017 comes in several configurations including from Intel Core m3 processor, Intel Core i5 processor to the higher-end Core i7 version.
The new Surface Pro performs as good as expected in everything- from browsing the web with several tabs open while word processing, and downloading media in the background. Not to mention it also works seamlessly for basic photo editing through Lightroom.
When it comes to ports, it houses a single USB 3.0 jack, MiniDisplayport, a microSD card slot tucked underneath the kickstand, a headphone jack and the power connection.
The biggest and most welcome improvement in the new Surface Pro is the battery life. Although it fell short of Microsoft's promise of 13.5 hours of power, it still lasted up to about 9 hours of a normal-day use, which is quite impressive.
With all of its improvements, the Surface Pro is undeniably among the top of hybrid laptops in the market. If you're looking to get a new convertible device for work and play, and have at least AED 4,499 to spare then this device is for you!