The rise of smart cities has been the topic of many inter-governmental conversations for years now, fueled by a desire to create a more sustainable environment for the future, increase efficiency, and elevate citizens' lifestyles. In fact, KPMG has forecasted that the smart city market in the Middle East and Africa will more than double in expenditure from $1.3 billion in 2018 to $2.7 billion by 2022. This will undoubtedly have a ripple effect on how buildings are designed, built, and managed.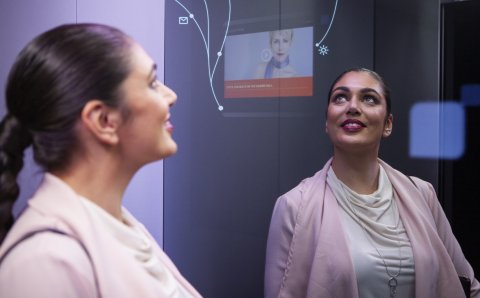 At the same time, throughout the pandemic, a need to switch to a more digitalised and automated world emerged, which consequently accelerated the process of upgrading cities and their infrastructure. This can easily be spotted through the increased introduction of contactless services and various other automated services across public spaces.
Among their many advantages, one of the core purposes of smart cities is to make our lives more convenient. When we look closer at how buildings can evolve in step with the wider city to achieve the same, people flow stands out as a key focus area. And at the heart of people flow lies the elevator.
In residential properties, communal amenities like the gym and swimming pool might seem the obvious choice for a smart upgrade, but the elevator is arguably a more meaningful one. Even during these times of work from home, the elevators are the arteries of a building, constantly orchestrating the flow of people to different amenities and access points. Similarly, whether a building serves as an office, hotel or entertainment and dining hub, the elevator is a fundamental part of the overall experience being curated. Today, the new generation of elevators achieves much more than ever before.
In almost every area of our lives we expect tech-driven experiences that make us faster, smarter, or less fatigued, meeting one aim of smart cities: to bring greater convenience to each day. Smart elevators contribute to this by creating a more connected and intuitive ecosystem for tenants and users.
One way is through the implementation of Application Programming Interfaces (APIs), which allow for the integration of devices, apps, and services with new and existing elevator systems.
This is a technology that KONE, a global leader in the elevator and escalator space, has introduced through its KONE DX Class elevators to bring a host of new multisensory experiences into the elevator. Doing so allows customers to 'upsmart' their existing infrastructure to better serve building users. APIs provide a whole host of opportunities to gain more from a building's elevator, and can continuously be updated to introduce new experiences and features. For example, individuals can call elevators to their floor from their home or office through an app and even receive deliveries straight to the property or office via robotized courier services that talk to elevators.
As smart technology becomes more pervasive in our lives, the flexibility to grow the functionality of an elevator is also a major boon for architects and developers. Smart tech presents many benefits for maintenance, as intelligent predictive maintenance alerts facility managers to issues before they materialise, keeping systems online. For KONE's customers, the elevators plus other infrastructures such as escalators and automatic doors call on artificial intelligence-based analytics to make smarter data-driven decisions about the maintenance required. Not only do users avoid any disruption that could affect daily movement, but the technology also increases the life cycle of assets, bolstering the return on their investment.
Many cities are making moves into smart territory to improve the lives of citizens and dial back the environmental consequences of urbanisation. Yet at the same time, these moves are being driven by the demands of the population itself, as citizens expect more from the built environment to enrich their lives.
From developers and architects to consultants, contractors, and investors, it takes many stakeholders to realise the vision of smart cities and the expectations of those living within them.
As these parties look to bring connected technology to the mainstream — in our homes, workspaces, and leisure areas, the elevator is a prime place to start, being the main enabler of people flow from home to street and beyond.