CNME Editor Mark Forker takes a closer look at the role cloud services and technologies are going to play in terms of being the main fulcrum for businesses to grow and expand in the new and at times complex digital economy we find ourselves immersed in.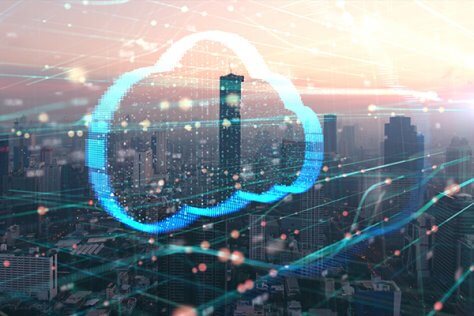 It has been well-documented by now that the global COVID-19 pandemic was a catalyst for digital transformation en-masse, especially here in the Middle East, and enterprises strategy for migrating to the cloud was accelerated well ahead of schedule in order to meet and cope with the new market demands being placed upon their traditional business models.
There are many technologies that fuel our digital ecosystem, but the impact of cloud on the Middle East GDP cannot be understated, and it has positioned itself to be the critical technology that underpins everything from security to data management and everything else in between.
While the technology has existed for some time, the proliferation of cloud computing has underpinned the world economy over the last year. Of course, 2020 had its fair share of challenges, yet it also came with opportunity. The pandemic ended up greatly expediting the digital transformation of organisations around the world. Businesses are moving to the cloud one to three years ahead of schedule. As new technologies on the cloud continue to mature, efforts to go digital will expand beyond the office and into production systems, bringing industries into a new phase of intelligent upgrade.
For many, cloud computing means faster access to streaming videos, or more space for their family photos online. But cloud's impact on the Gulf's economy and local national development visions is much more substantial. As a critical digital infrastructure that underpins the intelligent world, the cloud is reshaping the way people acquire digital capabilities. It is as important for 21st-century intelligent transformation as electricity was for the industrial revolution of the 19th century.
From compute power to business applications and programming tools, the cloud connects organisations to a global ecosystem of technological progress. Soon, this computing power and applications will be as easily accessible as water and electricity. Innovative combinations of cloud, connectivity, AI, and computing with industry applications are making it possible to inject intelligence into all scenarios. That means new experiences for consumers, new applications for individual industries, and a reshuffle of entire industries.
So much so that it is estimated that by 2025, 100% of enterprises will connect in some form to cloud services, and 85% of enterprise applications will be deployed in the cloud, according to forecasts from Huawei. Research by Accenture further suggests that many businesses have already recognised becoming "cloud first" as the key enabler for their digital transformation, with over 90% of enterprises having adopted cloud in some form or another.
Local Perspective: The investments being made in this space are even more striking. Spending on public cloud services is expected to grow approximately 26% this year in the Middle East, Turkey & Africa (META) region to USD3.7 billion, according to IDC. This contrasts with just a 2.8% expansion in spending in the broader IT market, according to the research firm.
This has in turn led to a surge of innovation within the cloud computing market.
In particular, many high-tech companies in China are now doubling down on software-driven solutions, notably in the area of cloud computing. Entities like Alibaba, Tencent, and Huawei are all increasing their investments in the cloud market, delivering new platforms and applications to a global customer base.
In the case of Huawei, for example, the company's founder recently called on the company's staff to "dare to lead the world" in software. The HUAWEI CLOUD is already one of the world's fastest-growing major cloud service providers, with over 220 cloud services and 210 solutions. Just this month, it also launched its self-developed HarmonyOS operating system across a slew of devices, part of an effort along with an increasing focus on cloud computing to bring novel services to international customers. This is all part of a strategy to use the cloud to create "fertile soil" for the intelligent world to flourish by enabling applications and data.
Moreover, companies like Huawei are now enhancing the synergy between cloud, AI, and connectivity to provide public cloud services and hybrid cloud solutions that deliver several layers of added value—especially in terms of stability, reliability, security, trustworthiness, and sustainability.
Ultimately, a deep-seated desire for cloud services from local governments and enterprises has led to a more open, globalised, and competitive cloud marketplace. It is an ecosystem that bodes well for the Gulf's business community. There is ample space for both traditional service providers and relatively newer cloud entrants—such as those from China. In both cases, these companies are increasingly differentiating themselves based on inventive solutions customised for local market needs. Businesses are in turn benefitting from access to new applications from all over the world in areas like AI, blockchain, and others.
At a time when entire industries are be being disrupted, this diversification of the cloud services market is a significant trend that offers organisations powerful tools to be more innovative in creating value and serving their customers.