Leaders from the UAE government sector were honoured last night at the GovTech Innovation Awards, which were hosted by CPI Media Group and tahawultech.com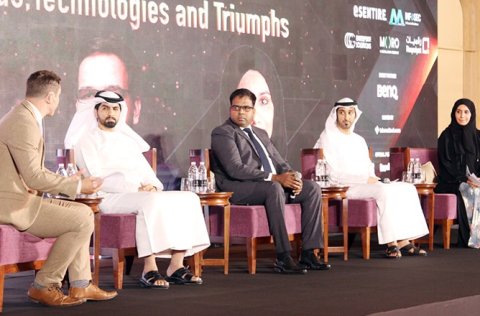 The awards were hosted at the stunning Dubai Ritz-Carlton in JBR – and attracted some of the most prominent and influential thought leaders from the governmental ecosystem from across the United Arab Emirates.
Prior to the awards, attendees heard from Omar Akar, Vice-President – Middle East and Emerging Africa, at Pure Storage, for a superb keynote presentation entitled: The Roadmap to Data Driven Digital Transformation. 
CNME Editor Mark Forker then moderated a brilliant panel discussion with the following government spokespeople;
Adel Alhossani, Chief Information Security Officer at Dubai Customs
Arul Jose Vigin, Head of Digital & Data at DIFC Courts
Dr Mohammed Al Shamshi, Head of Technical Support at Emirates Health Services
Amna Mohammad Alblooshi, Manager – Statistics and Data Analysis, Enterprise Command and Control Department at RTA
The panel examined the impact the D33 Agenda is going to have on Dubai's digital economy over the next decade – and they outlined the strategic role they are going to play to ensure they help meet the ambitious goals of the economic program.
In addition to this, the panel talked about the key technologies and trends driving innovation across the UAE, and also reflected on what the achievements of EXPO 2020 and investments in space exploration means for the UAE on a global stage.
The full list of award winners from the GovTech Innovation Awards 2023 are outlined below.
Dubai International Financial Centre Courts (DIFC Courts) – UAE Empowerment Initiative of the Year Award
Fujairah e-Government – Fujairah IT Department of the Year Award
Dubai Police – Customer Happiness Entity of the Year Award
Enterprise Command and Control Department (ECCD) – Roads & Transport Authority (RTA) – Smart City Initiative of the Year Award
Ajman Municipality – Ajman IT Department of the Year Award
Digital DEWA – Innovative and Sustainable Future Accelerator of the Year Award
Smart Umm Al Quwain – Umm Al Quwain IT Department of the Year Award
Emirates National Oil Company (ENOC) – Best Hybrid Data Protection Implementation of the Year Award
His Highness Sheikh Nasser Artificial Intelligence Research and Development Centre – AI Implementation of the Year Award
General Directorate of Residency and Foreigners Affairs (GDRFA) – Dubai -Innovative Initiative of the Year Award
Dubai Integrated Economic Zones Authority (DIEZ) -Dubai IT Department of the Year Award
Abu Dhabi National Insurance Company (ADNIC) – the Best Digital Security Initiatives of the Year Award
Sharjah Police – Sharjah IT Department of the Year Award
Abu Dhabi City Municipality – Best Security Department of the Year Award
Ras Al Khaimah Electronic Government Authority – Ras Al Khaimah IT Department of the Year Award
Dubai Economy and Tourism – Digital Solutions Provider of the Year Award
Roads & Transport Authority (RTA) – Digital Transformation Project of the Year Award
Dubai Health Authority (DHA) – Mobile App of the Year Award, congratulations.
Islamic Affairs and Charitable Activities Department (IACAD) – Innovative Management System and Projects of the Year Award
Dubai Healthcare City Authority (DHCA) – Cybersecurity Solution of the Year Award
Monitoring & Control Center – Abu Dhabi IT Department of the Year Award
Ras Al Khaimah Public Services Department – Smart City Initiative of the Year Award
Dubai Taxi Corporation (DTC) – IoT Implementation of the Year Award
Emirates Integrated Telecommunications Company – du – Cyber Defense and Data Science Project of the Year Award
Dubai Municipality – Government Pioneer of the Year Award
Hikvision – Intelligent Traffic Solutions Innovator of the Year Award
PROVEN Solutions – Best Innovative AI Solutions Provider of the Year Award
SANS Institute – Best Cybersecurity Training Provider of the Year Award
Mounir Abdel-moujoud, EDGE Group – Knowledge and Innovation Leader of the Year Award
Adel Alhosani, Dubai Customs – Government Security Leader of the Year Award
Sameer Khoory, Ministry of Health and Prevention (MoHAP) – Lifetime Achievement Award
Dr Mohammed Al Shamsi, Emirates Health Services (EHS) – Outstanding Excellence and Leadership in Healthcare Award
Amna AlSenaidi, Ministry of Education – Woman in Government of the Year Award,
Sultan AlOwais, Prime Minister's Office – UAE – Government IT Leader of the Year Award