James Petter, Vice President & General Manager, International at Pure Storage offers five business predictions for the year ahead.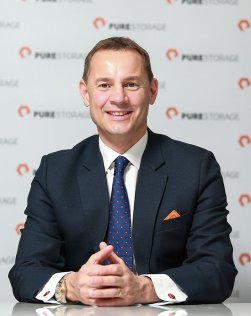 While the Gulf region is undergoing steady recovery, the past few years of turmoil have forced executives to inspect every aspect of their operations. Supply-chain issues, despite some encouraging improvements, continue to cast a shadow in some industries. Inflation rates are creeping ever upwards. In the UK, improvement is expected around mid-2023, whereas in some quarters in the US, inflation is feared to be a longer-term problem. While in Gulf countries the highest inflation rates are around half those in the US and Europe, we expect all these factors and more to keep regional business leaders on their toes in 2023. Energy costs will be of significant concern and the entire C-suite will start to take an interest in economics as external issues continue to impact budgets and operations. From supply chains to the choice of Opex over Capex, the year ahead will encompass change driven by the lessons of the recent past. Here are our predictions.
Risk management will be a corporate priority, with predictive data in demand
Risk management is never far from discussions amongst CFOs and regulatory teams. But in the economic climate of 2023, every senior leader, in every organisation, will have risk management front of mind. There'll be a deep assessment of the economics within companies, and their financial structures and technologies.
2023 will not be the year to leave any kind of chink in the corporate armour. I think that while CEOs, CIOs and CFOs will focus on their usual remits, we'll also see leadership teams that are far better versed in each others' areas as well. There will be truly multi-faceted teams, where each member can appreciate and understand their colleague's concerns and pressure points too.
To help these leaders, we'll likely see growth for predictive analytics and detailed modelling. Of course, every company has a wealth of data and most are trying to do something with it. But often the focus is on understanding and reacting to the current market. I believe there'll be more of a push to look ahead, as part of the overall focus on risk management and mitigation.
The CFO will lead the agenda and subscription services will be their friend
Realistically, the CFO will dictate the agenda over the next twelve months, and likely beyond. C-suite officers rarely take their eye off the bottom line, but next year will see them staring at it more intently, which obviously means the CFO will steer budgets even more than usual. In the tech sector, we'll hear plenty more conversations about TCO and in-year ROI. And, given the spend control that they offer, I think that means a more concerted move towards subscription services for many organisations.
Many finance teams favour a general Capex-before-Opex approach. Writing off depreciation for physical assets like IT hardware is a helpful mechanism for improving the health of corporate books, after all—especially for cash-rich companies. But unpredictable energy and infrastructure costs mean fixed-cost subscriptions look very appealing, especially when coupled with the fact that new services can be brought on without massive initial investments. And those subscription services that can deliver savings, not just in year one but well into year two and beyond, could sway CFOs and budget holders in 2023.
Companies will buy technology from vendors with a robust supply chain strategy
The last couple of years have taught harsh lessons around buying from vendors who do not have a robust supply chain in place, with wait times on B2B and consumer goods reaching months or even years in some cases. Businesses no longer want to buy from companies without a resilient supply chain in place. Therefore, companies are designing their technology stack to accommodate for global supply chain weakness and uncertainty. Those who can deliver in good time will be at a huge advantage. Buyers will need to look for vendors with multi-site, multi-continent operations and manufacturing. The strength of the company's supply chain will be differentiated by unique flexibility, resilience, and responsiveness.
Energy costs will accelerate eco-friendly data centre design
Eco-friendly design has been talked about for years when it comes to data centres. But the general imperative to be more efficient has received fresh impetus recently, in the form of the energy crisis and soaring prices. With data centres consuming between one and two per cent of the entire planet's electricity, these sharply rising prices will have a massive knock-on effect next year.
In the UK, offshore wind power became around nine times cheaper than gas earlier this year[1]. So the ability to connect to renewably-generated electricity will likely become a priority—and one that leads site selection criteria for new data centres and refits alike. More energy efficient cooling systems will also be looked at, in a bid to further push down energy costs. And I think we'll see creative ways to use the heat that data centres produce, whether as another renewable energy source or diverted into innovative side projects.
Hope ahoy!
Having learned lessons, we have the opportunity to be "cautiously bold". While an apparent contradiction, what we mean here is that many of the changes required would look bold to our pre-pandemic selves. But living in the current world means having to take leaps. Our experience of the recent past means we will take these leaps cautiously. Whether it is risk management, a reinvention of our supply chains, or something even trickier, our pandemic lessons will guide our hands. With careful thought and steadfast commitment, we will find the best route to resilience.