29/6/2021: CPI Media Group's tahawultech.com hosted their first physical event since the COVID-19 pandemic at the Habtoor Grand Resort in JBR last night, and it was a phenomenal success with over 100 key figures from the IT industry in attendance at the glitzy event.
The awards were designed to celebrate the businesses and IT decision-makers that have helped enterprises to transform and adapt to the challenges of the digital economy by leveraging technology and next-gen solutions.
Over the last 18 months as we know, there has been seismic changes to the way we live, work and play – and that inevitably presented major challenges for all major industries globally.
However, the IT industry has played a critical role in utilising its technological nous by deploying its solutions to maintain business continuity and create an array of new innovations and opportunities, which has also cultivated an environment that has allowed businesses to flourish and enabled the economy to recover.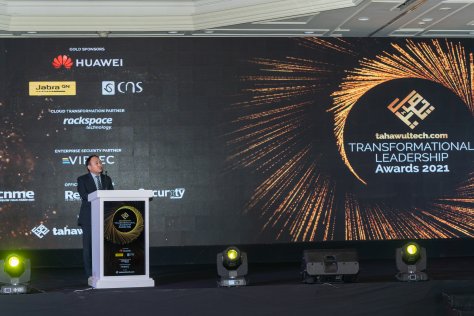 The awards featured a keynote presentation from Space Lee, Vice President, Huawei Middle East, and videos from Huawei, Rackspace, Virsec Systems and Jabra.
CNME Editor Mark Forker also moderated a star-studded line-up of IT leaders in a panel discussion entitled; 'Reinventing, Reimagining and Revolutionising the IT ecosystem in the Digital Economy'.
He was joined on the panel by: Salim Omar, Regional Sales Director, Cloud & AI Business Group, Huawei ME, Savio Tovar Dias, Senior Director Sales Engineering, Avaya International, Rahil Ghaffar, Regional Director MEA, Virsec Systems and Asef Sleiman, Sales Director, CNS Middle East for what was a brilliant discussion that examined the key trends and challenges in the current IT ecosystem.
The full list of winners from the Transformational Leadership Awards 2021 are outlined below:
Vendor Winners:
Best Mobility Solutions Provider of the Year: Raqmiyat
Best Cloud Wireless Solution of the Year: Nuclias by D-Link
Cloud Solutions Provider of the Year: Huawei
Best System Integrator of the Year: CNS Middle East
Best Email Security Vendor of the Year: Seclore
Best Evolved Cybersecurity Vendor of the Year: Forcepoint
Industrial Digital Transformation Vendor of the Year: AVEVA
Cloud Solution of the Year: Avaya for its Avaya OneCloud CCaaS solution.
Multi-Cloud Solutions Provider of the Year: Rackspace Technology
Best Technology Vendor of the Year for Hybrid Work: Jabra
Digital Transformation Partner of the Year: Huawei
End-User Winners:
Most Innovative Healthcare Initiative of the Year: Zulekha Hospital
Best E-Learning Program in Higher Education: Emirates College of Technology
Most Innovative Solution for Border Control and Public Safety: Monitoring and Control Centre
Best Deployment of Machine Learning in Healthcare: Prognica Labs Tech
Best Self-Service Initiative in Optimising End-to-End Solutions: Emirates Airline and Dubai Aviation Engineering Projects
Best Customer-Centered Digital Portal: Mashreq Bank
Best ERP Driven Strategy for FMCG Innovation: Basamh Trading Company
Best ERP Migration Strategy: RAK Ceramics
Best Blockchain Focused Document Authentication Initiative: DIFC Courts
Leader in Transformative Decision-Making for BI Implementation: Adyard Abu Dhabi
Best Facility Management Services Customer Value: Enova Facilities Management Services Middle East
Best AI Transformation in Customer Experience: Etisalat
Best Incorporation of Next-Gen Technologies for Exported Goods: Abu Dhabi Customs
Best Online E-Trading Platform of the Year: International Securities
Most Innovative Health Management Program of the Year: Emirates Health Services Establishment
Best Customer Service in Investment Banking: Al Masraf Bank
Best Smart Mobile Application in Banking: Kuwait International Bank
Individual Winners
IT and Compliance Manager of the Year: Jayesh Nandanan, Mediclinc Middle East
IT Leader of the Year: Ebrahim Kamalzadeh, Al Nabooda Automobiles
Technology Visionary of the Year: Hatem Hariri, CNS Middle East
Government IT Leader of the Year: Shakeeb Fellan, Fujairah E-Government
Best Mission Marketing Team of the Year: Avaya Marketing