With the presentation of the special Tech Women's Award in the Huawei Global App Innovation Contest (Apps UP) 2022 in the Middle East and Africa, global technology giant Huawei maintains its tradition of recognizing and empowering women in technology.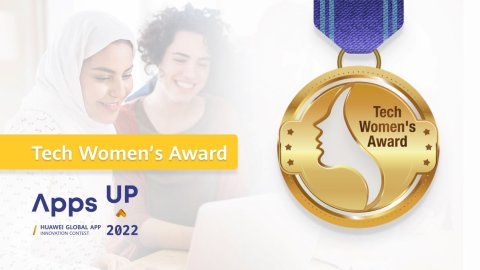 The award category provides regional women app developers a global stage to demonstrate their capabilities. AlMosaly, the recipient of the Tech Women's Award in the 2021 edition of the competition, made the highly skilled female team at MadarSoft a shining success story. Since integrating Huawei Mobile Services (HMS) in 2020, AlMosaly has accounted for a significant portion of the company's success and has earned several awards. Basma Mabrouk, Aml Abdelfatah, and Salma Hussien are the three women responsible for AlMosaly's victory.
For Basma Mabrouk, Head of Android Development and HMS at MadarSoft, it was all about improving people's lives: "Not many sectors allow you to truly change people's lives and share your vision, so application development was one of the best of these areas," she stated. Having been fascinated by technology since she was young, Android lead Developer Aml Abdelfatah now finds her dream job in the world of app development. Salma Hussien, a Senior Android Developer, is excited about the wealth of opportunities in the app development industry.
The women of MadarSoft remark that their experience at Huawei's Apps UP 2021 was very rewarding. Additionally, the team emphasized how HMS, coupled with the hundreds of millions of Huawei customers and Huawei's unparalleled support for developers, makes it easier for women to leave their own mark in this world and succeed. The performance of the AlMosaly app was phenomenal; in a short period of time, it attracted approximately one million users.
Moreover, the introduction of new technologies and the support for accessories like Huawei's smartwatches provide fresh opportunities for innovation. The MadarSoft team advise every woman to believe in herself, be more attentive, and select the path that will be rewarding at the end of the day. "With hard work and faith, the world becomes better every day and visions get clearer", they say.
The registration for Apps UP 2022 is already open and developers can submit their entries until October 9th, 2022. This year, the entire prize pool for the Middle East and Africa (MEA) region reached a record high of US$230,000, including a special Tech Women's Award with a reward of US$10,000. For more information about Huawei's Global App Innovation Contest Apps UP 2022, please visit the official website.
Huawei's commitment to supporting female developers extends to community initiatives. With the Huawei Women Developers (HWD) community, women have more access to knowledge and mentorship than ever before. HWD is a worldwide program aiming to empower female developers by providing comprehensive resource support and assisting them for career and technological development.
HWD is complemented by the exceptional support Huawei provides to all developers. Huawei organizes various training workshops on HMS, certification programs, and webinars on the latest technologies. In addition, a thriving community is always there to assist developers with any challenges that may arise, while the Huawei Developer Group MEAI will help them get a deeper understanding of the HMS ecosystem. Apps can reach a massive audience since Huawei operates AppGallery, the third largest app store in the world, with over 730 million monthly active users.