The ASUS BR1100FKA is the ideal companion for a student-with its durability, toughness and flexibility, learning is now an easy and smooth process. This power-packed learning companion has just the features a student in a hurry will need-and then some.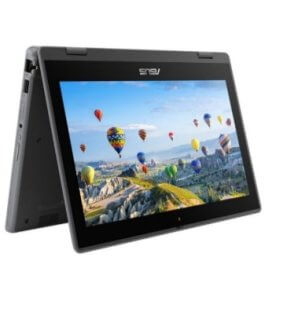 First things first: It has a fold-flat display that can be opened to a full 360 degrees. It also has a strong steel frame with a scratch resistant finish and a keyboard that is spill resistant.
For a student, the keyboard needs to be tough in order to handle keystrokes of varying intensity-and this ASUS stunner has a keyboard that is spill resistant can take hard knocks. And guess what? It also has a camera that supports 1.3 million pixels so that when the laptop is used in tablet mode, students can use it to record content. Sounds cool? Read on.
COMPACT YET POWERFUL
For all its toughness, the ASUS BR1100 FKA is delightfully compact and weighs just a mere 1.4 kg. So it can be carried around easily, from one classroom to another. Also, because it operates on Windows 10 Pro, it is fast and smooth to connect. The daily knocks of academic life shouldn't be a bother now, with this sturdy companion.
This stunner has been tested in the most rigorous manner to comply with military-grade MIL-STD-810H durability standards. Not just that, it is also torture-tested to pass the most stringent of ASUS's quality tests, so it is, for sure, the ideal choice for students and parents who want nothing but the best for them.
THE SCREEN
Let's take a look at the screen-it is, a 11.6-inch touchscreen with 1366 x 768 resolution and wide 178° viewing angles. The display is easy on the eyes, with its Low Blue Light mode and Anti-Flicker technology (DC mode). For those of you who are particular, it has passed the TÜV Rheinland Eye Care certification, so the eyes are not overstrained from the light and the display blinking.
The ASUS BR1100FKA is equipped with an optional stylus with pressure sensitivity that allows students to be creative and unleash their imagination. Of course, there's a garage to park it when not in use, so that it's never mislaid or lost. What's interesting about the stylus is that just a 15 second stay in the garage equips it for 45 minutes of continuous use.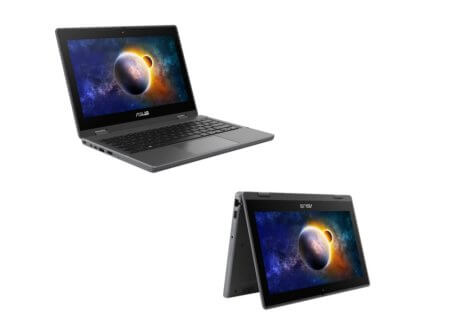 THE CAMERA
With remote working the norm today, cutting-edge video conferencing tools are much in demand for anyone looking to purchase a phone or a laptop. ASUS has fully understood this need and equipped the BR1100FKA with an HD webcam with a physical shutter to ensure privacy, and comes with 3D noise-reduction (3DNR) technology and AI noise cancelling features, which eliminate much of the random noise that naturally affects any camera, especially in low-light conditions – significantly improving image quality without compromising exposure or detail levels.
VOICE QUALITY & MIC
Voice quality is now more important than ever, so the new ASUS BR1100 series features an ASUS AI Noise-Cancelling technology which ensures that users can hear and be heard clearly in any scenario. The AI Noise-Cancelling Mic function page lets user select from one of four modes: Normal, Balance, Single presenter or Multi-presenter. When a user selects the Single Presenter mode, all ambient noise except human voices are filtered out. When a user selects the Multi-Presenter mode, the system normalizes individual voices from different positions or distances, so that all voices are conveyed at a similar volume.
POWER INDICATOR
The ASUS BR1100 has an LED indicator built into its top cover, which allows educators to see at a glance if a particular student's laptop has connectivity or power problems – giving teachers a heads up when a student might need help.
THE PORTS
Most laptops fail when it comes to ports-somehow, the ports just don't seem to be enough. Buy hey! The ASUS BR1100 has useful ports that allow it to connect to any device. Highlights include a full-sized HDMI port that allows it to connect to virtually any projector or flat screen TV with common HDMI cables. It also has one standard USB 3.2 Gen 1 Type-A port and one USB 3.2 Gen 2 Type-C port for data transfers and power delivery.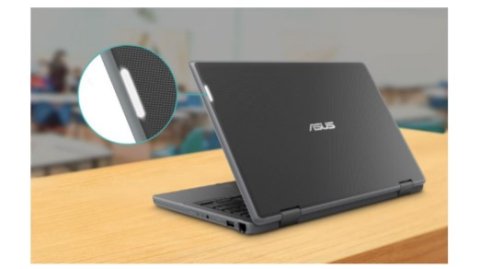 THE BATTERY
The battery is something we all look for in a laptop, and this stunner doesn't disappoint. The ASUS BR1100 series is available with a 42-watt-hour battery that offers an incredible battery life of around 10 hours, allowing students to work an entire day without charging.
HYGIENE
With the Covid-19 pandemic having heightened our attention to hygiene, it is heartening to note that ASUS has taken care of this aspect as well. The keyboard, touchpad, and palm rest of this laptop are all protected with ASUS BacGuard antibacterial treatment, which integrates silver ions components that prevent bacteria from multiplying. This antibacterial design has also passed the ISO22196 test certification, with an antibacterial effect as high as 99%.
There, we've given it to you in a nutshell-the ASUS BR1100 is a student's dream. So, what are you waiting for? Get hold of your learning companion today and see for yourself what it can do!