Brisco Soman, Channel Sales Manager – UAE & GCC at ASUS, tells Anita Joseph, Editor, Reseller ME, how the company plans to focus on  enhanced digital experiences and customer-centric innovations in the new year.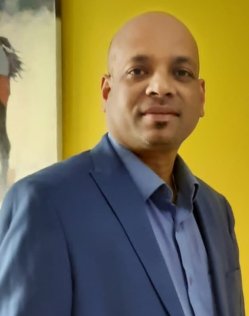 What is ASUS's vision for the Middle East, especially in the context of the changing market dynamics?
 As a major player in the IT industry, ASUS' corporate mission is to provide innovative IT solutions that empower people and businesses to reach their full potential. ASUS has set forth a new journey towards being a preferred technology brand in Commercial PC business 
We all know that digital transformation happening at a very fast pace. What ASUS is doing is that we're enhancing our existing product portfolio as well as our new products, to bring in more acceleration to the growth of the digital environment.  We're enhancing our product portfolio in terms of mobility devices as well as desktops, also all-in-one platforms. How we're doing it is we're improving their performance in terms of battery life as well as lesser weight. All the factors we doing is to improve attention to digital customers, improve in customer experience, creating competitive edge and evolving continuous innovation .This is what we're focusing on, in the current scenario.   
In an intensely competitive field, how is ASUS positioning itself and what is its USP?
There are three indicators of USPs: One is performance, the second is quality and the third is service. Underscoring all of these is innovation.  
In terms of performance, what ASUS doing is that we're bringing in innovative products first and fast, into the challenging market.  For example, the OLED monitors in the platforms on our mobility devices-we were the first one to market it aggressively. In terms of performance, I'd say higher battery life as well as mobility. So, for example, we have our ExpertBook B9400, which is 880 grams and it gives you up to 24 hours of battery life. So that is the kind of performance which we are looking at. And in terms of quality, all our products are stringently tested against global standards. Then comes service- we are equipped with all the kind of potential sales warranties we can offer to the customers, be online, on-site services even exceptional damage protection warranty. We're also equipped to do five years warranty and all our products, especially catering to the B2B and the commercial product portfolios. And also we also provide hard drive retention. So these are what make us stand out. 
 
How is ASUS helping partners and customers digitally transform?
Okay, yes, I understand that digital transformation is happening very fast. We have a robust marketing team that is equipped to do all kinds of A plus contents for our partners. We are also equipped to help our partners in terms of listing the products on their online portfolios. We're currently participating with a majority of b2b partners, we are creating our own plan shops inside online platforms, providing content, as well as all the products and the articles related to it. This is one way we are helping our partners in transforming digitally. On top of that, we also will be launching our online business portal by Q1 next year. This will help our partners access marketing contents as well as educational materials and track their own sales and marketing incentives. A lot of things have been planned for the next couple of months as well as for the next year as far as helping our partners transform digitally is concerned. 
What are some of your latest products? Can you tell us what your focus here is going to be? 
As far as our product offerings are concerned, our key focus is on mobility. Especially where notebooks are concerned, we are bringing in premium products-fully functional business laptops for a mobility user, which offers excellent performance. Also, the main verticals we are going to focus on this year, is education and the government. We have products, especially for educational purposes, which we target school and university students. These devices are units are meticulously tested with convenient features like flip-which means the laptop can be flipped and used as a in laptop mode, tablet mode or tent mode.  So these are the main focus areas as far as our products are concerned.
 
What is the company's plan for 2022?
Our plans for 2022 are based on three pillars: Go Big, Go Wide and Go Deeper.  
Going Big means we have very big plans for our main verticals: Education & Government. Going big in the education segment means we are planning to launch major educational initiatives in Q1 targeting students and universities in the UAE and the GCC.  
Going Wider means we have huge channel expansion plans, especially in the GCC region. When we regrouped our commercial division, our focus was mainly on the UAE in terms of channel expansion, which we have already done. We have close to 70 premium channel partners which we do active business with-especially catering to all the verticals like education, government, enterprise and SMB. Next year, we will be much more focused on plans for the GCC market.  
Going Deeper means we are enhancing our capabilities internally-we are allocating resources to tap end user accounts, wherein we will have focused accounts with a direct sales, pre-sales and post-sales approach. We are also expanding our resources next year, to address all these areas.  
We classify our channels into three-retail (although we are into commercial products, our presence in the premium segment is in retail, both online and offline), system integrators and the open channel. In 2022, we're going to be extremely focused on our online/digital platforms, especially B2B, as well as offline. In the offline space, there are key premium retailers where we will be offering key retail products.  
The open channel is the small & medium businesses wherein we plan to focus in a big way on smaller format retailers and Resellers. Special attention will also be given to the system integrator partners which we have classified into three: Platinum, Gold and Silver. Like I mentioned before, we will be rolling out 2022 Channel Rebate programs and other initiatives for our partners in early Jan 2022, that will help them grow with us in terms of Profits and Revenue for them.