As digital transformation accelerates and businesses are faced with disruptions that threaten to put continuity at risk, it is crucial for SMBs to have a fully functional IT and data management infrastructure ready to cope with the workplace(s) of the future. For businesses looking for a budget-friendly, turnkey solution that could help them streamline their data management functions, a Network Attached Storage (NAS) is the answer.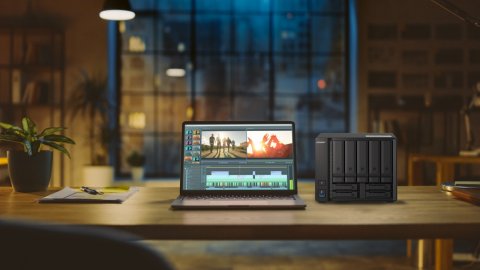 In basic terms, NAS is a storage device that connects to a network and allows data access from authorized users. It is a centralized storage solution that helps manage data more efficiently. Modern NAS devices are equipped with a user-friendly operating system along with other built-in software applications that help users stream, sync, share, or back up their data. With a NAS system, data becomes continually accessible, making it easy for employees to collaborate, respond to customers and promptly follow up on sales or other issues, as all the information they need is in one place. 
QNAP's TS-h973AX is the best NAS for SMBs in the market today, with its state-of-the-art features and cutting-edge technology facilitating a seamless and efficient way of managing important data.  
The TS-h973AX combines the storage and performance potential of HDD + SSD hybrid storage and delivers power-smart performance with an AMD Ryzen™ Embedded V1000 series V1500B 4-core/8-thread, 2.2 GHz processor. Supporting up to 32 GB DDR4 memory, the TS-h973AX also enables smooth multi-tasking and simultaneous connections from multiple devices. 
That's not all: The TS-h973AX delivers a fast, reliable and high-capacity NAS with a unique 5+4 drive bay architecture. You can install two 2.5-inch U.2 NVMe SSDs for cache acceleration to attain optimized performance and low latency, while utilizing another two 2.5-inch SATA SSDs as system drives for smooth applications. The five 3.5-inch drive bays support high-capacity hard drives to store files and data. 
Another USP of the TS-h973AX is that it pairs its incredible storage potential with a compact and stylish physical appearance. With its distinct brushed metal design, it is the ideal companion for modern digital offices. 
This best-in-class product even ensures data integrity, with the ZFS-based QuTS hero operating system. It also supports block-level inline data deduplication and compression, near-limitless snapshots, and real-time SnapSync to satisfy mission-critical file servers, virtualization servers, collaborative video editing and efficient data backup and recovery with business-class performance, job reliability and lower overall cost. 
The TS-h973AX has four 2.5-inch SSD slots – with slots 1 & 2 supporting both high-performance U.2 NVMe PCIe Gen 3 x4 SSDs or economical SATA 6Gb/s SSDs. For tackling latency-sensitive applications, you can take advantage of U.2 NVMe PCIe Gen 3 x4 SSDs that supply up to 32Gb/s bandwidth to attain optimized performance and efficiency. You can also use QNAP's QDA-UMP adapter to replace U.2 NVMe SSDs with cost-efficient M.2 NVMe Gen 3 x4 SSDs to maintain high-level performance while saving more costs. Storage is not an issue with this power-packed stunner of a device: It flexibly reserves a dedicated space in an SSD storage pool to allow new data to be written into a complete block even if the pool is almost full, thus improving the performance of fragmented pools. It also transforms all random writes to sequential writes along with reduced I/O, effectively increasing SSD write performance.  
Streamlining large file transfers and video editing are no longer worrisome-the TS-h973AX has one 10GBASE-T Multi-Gig (10G/5G/2.5G/1G/100M) port and two 2.5GbE RJ45 (2.5G/1G/100M) ports, providing out-of-the-box support for high-speed networking and supporting Port Trunking and Failover to reinforce network infrastructure. 
As we know, virtualization increases the efficiency of IT management and the availability of IT applications and resources. QNAP NAS provides high-performance, reliable and affordable storage solution for virtualization applications such as VMware® vSphere™, Microsoft® Hyper-V®, and Citrix® XenServer™. 
Make no mistake, this device is ready to take on all next-generation networking tasks. With its two high-powered ports, the TS-h973AX is ideally matched with QNAP's QSW 2.5GbE/10GbE switches to form high-speed, secure, collaborative network environments without exceeding allocated budgets. 
The TS-h973AX supports all leading Operating Systems: Apple Mac OS 10.10 or later, Ubuntu 14.04, CentOS 7, RHEL 6.6, SUSE 12 or later Linux, IBM AIX 7, Solaris 10 or later UNIX, Microsoft Windows 7, 8, and 10, Microsoft Windows Server 2008 R2, 2012, 2012 R2, 2016, and 2019. The browsers it supports are: Apple Safari (latest version), Google Chrome (latest version), Microsoft Edge (latest version) and Mozilla Firefox (latest version). 
So, what are you waiting for? Get QNAP's TS-h973AX now! For more details about the product, visit https://www.qnap.com/solution/ts-h973ax-promotion/en/ OR contact Alex Tsai, MEA Sales Manager at alextsai@qnap.com.