Powerful, efficient and cost-effective, the TVS-675 includes advanced features that simplify mundane tasks like file backup, restore and synchronisation, while providing cutting-edge options like hybrid backup sync and virtualisation.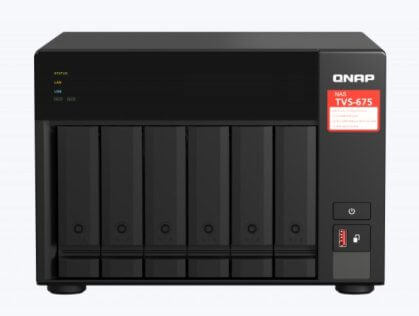 In today's world where hybrid working models are the norm, data storage and management can be extremely complicated and everyday tasks such as file backup and restore and collaboration between 'distributed' teams, complex and cumbersome. However, with QNAP's business-class Network Attached Storage-the NAS – TVS-675, they need no longer be. Powered by the x86 architecture Zhaoxin KaiXian KX-U6580 8-core processor, the TVS-675 provides businesses with a modern 2.5GbE NAS solution to tackle tasks like seamless file backup & restore seamlessly and also boost team collaboration with higher productivity.
So, what makes the TVS-675 unique?
Besides hardware advantages with built-in M.2 SSD slots for cache acceleration and PCIe expansion, the TVS-675 supports abundant business and media applications (including snapshot protection, virtual machines, cloud storage gateways, 4K HDMI display, and real-time transcoding) alongside expandable storage capacity and install-on-demand apps, making it a cost-effective and reliable data and media storage option.
In this article, let's explore two of the software features of this one-of-a-kind NAS: Hybrid Backup Sync (HBS) & Virtualisation.
 Hybrid Backup Sync (HBS)
 As we all know, data backup and disaster recovery are key to effective data management, especially today, when all the crucial data that is being generated are extremely vulnerable to threats and attacks. This is where Hybrid Backup Sync steps in and helps you back up data from a QNAP NAS to several local, remote and cloud storage spaces. In fact, its multi-version backup also allows you to easily track changes.
That's not all: HBC consolidates backup, restoration and synchronisation functions into a single QTS/QuTS hero app so that you can easily transfer your data to local, remote and cloud storage spaces, as a comprehensive data storage and disaster recovery plan. It also features the cutting-edge QuDedup technology to de-duplicate backup data at the source. So, with the overall data size reduced, the required bandwidth and backup time are also saved. With QuDedup, you can reduce the RPO (Recovery Point Objective) and RTO (Recovery Time Objective) for your backup plan. When tested with a virtualisation solution, QuDedup reduced the backup size by as much as 75%.
Creating tasks in Hybrid Backup Sync is secure, seamless and easy. This is because it allows you to encrypt and compress files before backing up or synchronising them. Not only does this effectively prevent unauthorised access, but it also provides an extra layer of protection for personal and business files/data. Also, after backing up de-duped, encrypted or compressed data to a QNAP NAS, remote server or cloud storage, you can use the QuDedup Extract Tool or QENC Decrypter utility to easily restore and view them on your computer.
From version 14 onwards, Hybrid Backup Sync supports automated cross-NAS backup jobs. When the local NAS starts a backup job, a remote NAS automatically starts secondary backup, sync, or restore jobs. See how simple it is? all you need to do is set the backup process on each NAS, so then these multiple NAS can automatically complete all job flows. Whether migrating big data or backing up to multiple destinations (such as USB storage or cloud storage), IT teams can effortlessly streamline the entire backup workflow according to their requirements.
Virtualisation Station
 A Virtualisation Station is a powerful hypervisor software on your QNAP device that allows you to create a cost-effective virtualised application environment. Not only do they bridge the ever-widening generation gap between hardware and software, but they also provide several benefits to IT professionals and developers, including cost savings, greater efficiency and better eco-friendliness, to name a few. Virtualisation Stations also make the NAS incredibly versatile. You can use the NAS as a PC by connecting a keyboard, mouse and HDMI display to create private virtual networks between virtual machines and can also use USB pass-through to provide the NAS with greater functionality and performance.
Not only that: virtualisation stations also support a variety of operating systems, including Windows, Linux and QuTScloud. With this software, you can set up and execute multiple virtual machines according to the available system resources. At the same time, the Virtualisation Station also supports a variety of resource management and acceleration functions, making it a highly efficient and valuable virtualisation application platform.
QNAP's Virtualisation Station is fast and reliable. You can use it to run multiple virtual machines to meet diverse virtualisation needs while enjoying value for money and the benefits of several advanced, futuristic features.
One of the biggest advantages of the Virtualisation Station is that you can use it to run virtual machines with different operating systems, including Windows, Linux, and QuTScloud, on QNAP NAS and devices. You can also download and use various virtual devices directly from the Virtual Machine Marketplace available in the Virtualisation Station.
The Virtualisation Station also allows the QuTScloud, a virtual NAS device using QNAP's QTS operating system, to convert a single entity NAS into a multi-tenant environment, thereby saving costs and space and making the entire process more convenient and flexible.
Let's not forget QNAP's Container Station which seamlessly integrates LXC / LXD and Docker lightweight virtualisation technologies, allowing you to operate multiple isolated Linux systems on a QNAP NAS, as well as download apps from the built-in Docker Hub/LXD Image Server Registry. LXC/ LXD supports OS-level virtualisation for Linux-based operating systems, while Docker is ideal for application virtualisation purposes.
Most NAS products in the market support only Docker containers, and as such are unsuitable for the deployment of Linux virtual machines. So you can see how, as the only NAS brand in the market supporting both LXC / LXD and Docker, QNAP NAS is the clear choice for comprehensive virtualisation solutions.
To know more about the product and to pre-order, please visit: https://datacaredubai.com/products/qnap-tvs-675?variant=39850005692470
To know where to buy this world-class product, please visit: https://www.qnap.com.cn/en/where-to-buy/middle-east/united%20arab%20emirates/sub-distributor