CNME Editor Mark Forker managed to secure an exclusive interview with Bill Burns, CEO of Zebra Technologies, to learn more about his vision for the business, their entry into new areas of technology, the importance of a strong culture – and their efforts to be a global leader in sustainability.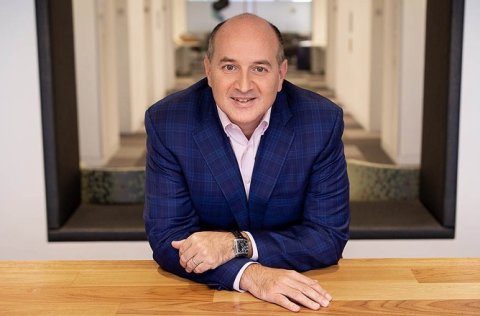 Bill Burns is a global technology leader with over 30 years of experience in the IT ecosystem.
He has enjoyed a decorated and distinguished career, one which has seen him hold senior executive positions at companies like Tellabs and Spirent Communications.
Burns joined Zebra Technologies in 2015 – and was appointed as CEO in March of this year.
His ascension to the top job at Zebra Technologies has been heralded by industry analysts as a 'safe bet' for the world leader in innovative and intelligent digital solutions to continue to thrive under his stewardship.
Burns kickstarted the conversation by outlining the vision of the company and how customers are leveraging their diverse portfolio of solutions to optimise and automate their operations.
"Zebra is empowering organisations to focus on what we see as the on-demand economy. Our vision is what we call enterprise asset intelligence, which we describe as essentially every asset and worker within the enterprise being visible, connected and fully optimised. How do you take the next best action within your business to really be as efficient and effective as you can be. 86% of the Fortune 500 companies globally are our customers. These customers are looking to digitise and automate their environments and they want to leverage our product portfolio to help them to do that," said Burns.
Burns highlighted how Zebra Technologies is powering the on-demand economy in industry verticals like retail and healthcare – and added that they have moved into new areas of technology.
"Our scanners are at the point of checkout in a supermarket, and our printers are being used for hospital wristbands to provide better healthcare services – and our devices are being used for pick and delivery of e-commerce orders. Most recently we have moved into some new technology areas beyond our core markets of mobile devices, printers and scanners into robotics and warehouse automation in the machine vision and retail software. All of that together incorporates about a $30 billion served market for Zebra," said Burns.
In terms of what informs their innovation roadmap and strategy, Burns said that they very much favour an approach of organic investment.
"Our first preference is an organic investment because we have strong relationships with our customers globally. We invest a lot of time to really understand the needs of our customers from all around the world. From retail to e-commerce through to transportation logistics, manufacturing, healthcare and government are all markets that we serve today.
Listening to a diverse set of customers and understanding what products, solutions, hardware and software to bring to market ultimately gives us better insights into what they are truly looking for," said Burns.
The CEO of Zebra Technologies said that technology inflexion needs to be married in with real customer specific feedback into Zebra – and said its investment in R&D differentiates the company from their market competition.
"Today, we spend around 10% of our revenues on R&D, which is more than our competitors, and we do that to primarily stay at the forefront of each one of these vertical markets that we serve, because we are a market leader in our core markets. We also leverage venture investments. For example, we will make a venture investment in a company to really understand more about what is happening in a particular market – and then look to either get rewarded financially through the outcome of someone else acquiring the company, or us possibly acquiring it, and we have done that with some of our software assets in the past," said Burns.
Burns said that time-to-market is how Zebra thinks about M&A, stating that it enhances their vision of enterprise asset intelligence.
"It is a place that is closely adjacent to what we do on our core portfolio of selling into the same customer base – and then leveraging M&A when we want to have a faster time-to-market, or scale faster into a new market that we find very interesting for Zebra. So, in summary, organic investment and voice to customer is first and foremost for us, but we also use venture investments and M&A as well as ways to effectively enter new markets," said Burns.
Burns highlighted the critical role played by their global channel partner ecosystem – and explained their sales strategy in what is a constantly evolving and at times complex digital economy.
"80% of our business globally is done through channel partners. Ultimately, our goal is to have strong relationships with our customers. We're not just selling to IT at this point in time. We're selling to store operations, HR with workforce management software and loss prevention. We have a different group of personas across that customer base that allows us to leverage those relationships to sell multiple solutions into the same customer, because if 86% of Fortune 500 are our customers today, then what you want to do is grow your base of solutions into those customers," said Burns.
Burns said Zebra is a global leader in rugged mobile devices inside retail settings. He explained how their mobile devices and software empower workers on the shop floor.
"We have bought and acquired software assets to leverage that mobile device. So, think of that mobile device in the hands of a retail associate and leveraging those devices with our retail software. Workforce management software allows you to plan what worker you will need in the store – and enables you to schedule effectively, the task management software allows the manager to send out tasks in real-time to staff on the shop floor. Communication and collaboration software is critical, a lot of customers tell us that if a store's associates are an aisle away from each other then they might as well be a forest away from each other – the feedback we have received from them shows it's important they are connected with each other and engaged. If you're by yourself all day then that's not good, and you can quickly become disconnected. In summary, our goal is to leverage that mobile device inside retail and then marry software assets on top of it to really drive better outcomes," said Burns.
There has been no significant shift in the direction of the company, or a structural realignment following Burns' appointment as CEO.
It's very much business as usual and he highlighted the importance of having a collaborative executive leadership team.
"We have a collaborative executive leadership team. I led the product solutions team, and I relied on a peer of mine to actually build the products, and relied on another peer of mine to market the products – and another peer to sell the products, so ultimately the executive team is fully aligned as most technology companies are. Over the last 7 years we have always had an aligned strategy, especially since the Motorola Solutions' Enterprise acquisition, which took the company from a $1 billion printing business to a $3.5 billion printing, scanning and mobile computing business. Our primary focus is on our customers and partners – and as I said earlier 80% of our business goes through our partners, but they are also customers of ours as well. I think every business has had tough supply chain challenges over the last 18 months, but staying close to them and making sure we are hearing them is very important. When we look across our portfolio, it's all about executing and growing that portfolio and then expanding into new areas," said Burns.
Burns also referenced the importance of a strong culture in ensuring continued success.
"Talent and culture are very important – because you need the right people all around the world, and the best and brightest to be successful. We focus a lot in terms of innovating our culture, and to make sure we are an inclusive culture around the world. We are a diverse company because we are a truly global entity," said Burns.
Zebra Technologies is a real leader when it comes to sustainability and was recognised for their sustainability achievements by a report commissioned by the CDP.
Burns concluded a brilliant interview by outlining that sustainability was not only important to them as a company but also to their investors and customers.
"First and foremost, it's just the right thing to do. We started with the basics like recycling devices, and then we saw that not only do we care about these areas, but it became evident that our investors and our customers really cared about sustainability. We are engaged in a lot of initiatives that are designed to drive greater sustainability. We looked at areas like packaging, and asked how can we do that better to reduce our wastage? How do we become more energy efficient – and what are the things that we can do to make things better across the globe? I think when we tally it all up, it's clear we are doing a lot, but the next challenge is how do you organise and report it all? How do you make it practical as opposed to having some sort of outlandish goal for the future that's probably not realistic? Our approach is practically making things better each and every day that ultimately supports the right thing to do and serves the best interests of our customers and investors – and that's what we are aiming to do at Zebra," concluded Burns.