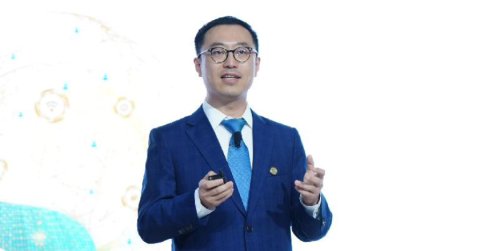 At the 2023 5.5G Leaders' Summit in Dubai, Dr. Philip (Xiaodi) Song, Chief Marketing Officer of Huawei Technologies Carrier Business Group, delivered a compelling keynote speech titled "Stride towards the 5.5G Era." That captivated the audience with its insights into the future of connectivity.
The 5.5G Leaders' summit brought together ICT leaders, regulators, industry organisations, including GSMA and WBBA, vendors, enterprises, analysts, chipsets, application ecosystem partners, and other experts to share their ideas, discuss various topics on creating sustainable 5.5G connectivity, and ecosystem platforms to foster collaboration, accelerate digital economic growth.
It became evident that the ongoing convergence of industries was generating numerous innovative applications that would shape the landscape of technology and communication.
Looking ahead, Dr. Song emphasised the importance of continuous enhancement of 5G capabilities for networks. In an era characterised by ever-evolving user experiences and digital requirements, it is essential for networks to keep pace with the demands of industries. The transformative potential of 5G technology lies in its ability to enable seamless connectivity, higher data speeds, and low-latency communication. By further enhancing these capabilities, networks can effectively support emerging technologies and applications, revolutionising immersive experiences, deepening industry digitalisation, accelerating In-Vehicle transformation, enabling and upscaling all scenario C-IoT.
Maturing 3D Technology Revolutionising immersive Experiences. In recent times, naked-eye 3D technology has made significant progress. Leveraging developments in optical technology, dynamic eye tracking, and AI, glasses-free 3D PADs have been introduced, enabling truly immersive experiences. 3D applications, such as online 3D malls and naked-eye 3D contents, are set to become the new norm.
Deepening Industry Digitalisation through Technological Innovation. The growing capabilities of 5G private networks will result in a tenfold expansion of application scenarios for these networks, with the value of individual connections in key scenarios exceeding previous limits by more than tenfold. The 5.5G network offers enhanced capabilities, catering to the requirements of vertical industries, and better supporting and facilitating the industry's digital transformation.
Accelerating In-Vehicle Entertainment and Intelligent Transportation. The revolution in in-vehicle entertainment has arrived, providing immersive audio and video experiences within vehicles, along with intelligent transportation solutions outside the vehicle. Undoubtedly, these new services and changes will lead to an increase in network connections, faster network speeds, and more powerful network capabilities.
Enabling and upscaling All-Scenario Cellular IoT Connections. RedCap, a technology ready for commercial use, offers distinct advantages over eMBB modules, including lower power consumption, reduced costs, and greater scalability. The introduction of passive IoT technologies and the expansion of mobile networks from high-speed active connections to ultra-low-speed passive IoT connections have paved the way for further digitalization. It is projected, by 2030, the number of labels used will reach 100 billion as industries embrace digitalisation.
Dr, Song concluded his speech by presenting a vision of 2030 and calling for continuous collaboration in developing technologies in the 5.5G Era. He emphasised, by 2030, these transformative changes will create new opportunities for the industry, multiplying current figures by tenfold or even a hundredfold, thus placing higher demands on networks. To effectively meet these requirements, Huawei emphasises the need for collaborative efforts between operators, industry partners, and itself to drive the adoption of the 6 GHz spectrum standard, explore innovative IoT application scenarios, and seize new business opportunities.
The future market will witness increasingly diversified and extreme demands, along with immense market potential and opportunities. In light of this, Huawei proposes a collaborative approach, working closely with operators and industry partners to explore the possibilities presented by the 5.5G era. Striding towards the 5.5G together, we will continuously innovate within the industry, exploring and developing new frontiers, and embracing the limitless potential of the 5.5G era.