CNME Editor Mark Forker spoke to Nastasi Karaiskos, Managing Director at Rakuten Symphony UK, to learn more about the significance of its recently launched Open RAN customer experience centre in the UK – and how the telco disruptor is well-positioned to become the market incumbent globally in the Open RAN space.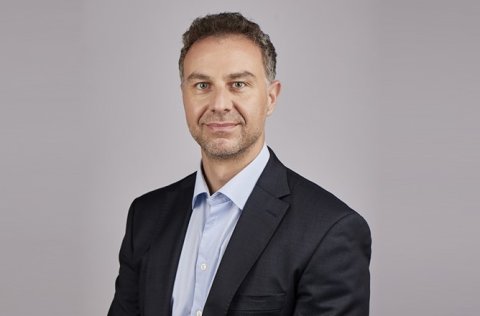 Nastasi Karaiskos has been at the heart of telecommunications transformation  over 20 years. He began his career at Colt Technology Services, before moving to US behemoth Verizon and then on to NTT.
He established Rakuten Symphony UK in January 2022 on behalf of the internet services giant, and has been tasked with the responsibility of driving the growth of the Japanese telco disruptor in the United Kingdom.
Rakuten Symphony are positioning themselves to be the 'go-to' player for Open RAN – and the recent launch of their Open RAN Customer Experience Centre in the United Kingdom has been labelled as a 'major step forward' by industry analysts.
In a candid and in-depth discussion with CNME, Karaiskos acknowledged that historically, the radio access network space has been dominated by a very small number of vendors, but he believes Rakuten Symphony are disrupting the status quo, especially when it comes to Open RAN.
Ericsson, for example, has been far from enthusiastic about the capabilities of the fledgling technology concept.
"Our UK and European customer base is growing as the adoption of Open RAN and need for operational automation increases. My technology experience has been around building networks, cloud, and building the infrastructure around data centres and putting fibre in the ground."
Karaiskos explained the process behind Rakuten opening their experience centre in the UK, and expressed his belief that it will serve as a great hub for talent and innovation.
"We applied as part of a public tender process to the Japanese government, or the MIC (Ministry of Internal Affairs & Communications) for funding for this particular project. I believe that the UK is leading from a European perspective in terms of supply chain diversification which the industry desperately needs. We are working very closely with many MNOs in the UK, as well as the rest of Europe," said Karaiskos.
Karaiskos said that the telco disruptor is considering other labs based on their customer needs around Europe, and declared that the experience centre in the UK won't be the only centre in Europe. He conceded that there remains some resistance towards Open RAN, but believes that the customer experience centre will encourage the adoption of the technology in the coming years.
"The purpose of the lab is to serve as a space for us to encourage adoption, but with any new disruptive technology, as Open RAN is, naturally there will be some fears and concerns. You have to take into consideration that when operators have had a certain way of doing things for so many years then there are always going to be challenges to overcome. It is quite common for there to be resistance towards change," he said.
Karaiskos added that one of the key takeaways that they took from the opening of the centre was how supportive both the UK and Japanese government are of Open RAN.
"Both the UK and Japanese governments really see Open RAN as being the predominant technology for the future development of the telecoms industry. They were very impressed by its security and scalability – and that's very important for industry players to both see and hear, and will only serve to accelerate adoption of Open RAN," said Karaiskos.
Karaiskos emphasised the importance of dispelling some of the myths about Open RAN, and said that Rakuten Symphony are in a good place to do just that.
"People often ask the question 'Is Open RAN secure enough, should we be moving to something more secure'? We hosted a panel on security at the launch of our centre, and one of the government members from the UK explained how they were removing a certain supplier from their network due to security fears. There are different ways to look at this, but having a diverse ecosystem of software, hardware and services companies promotes competition which is healthy for the industry," said Karaiskos.
Karaiskos bemoaned the relatively rigid nature of how contracts with vendors worked in the past, and said the 'flexibility' of Open RAN represented the future.
"It was far too restricted in the past – typically you would sign up with one vendor and then you'd be with that vendor for the next 10 years or more. I believe that having the flexibility of partners from different regions is the best way forward, and the diversification of suppliers, vendors and partners can only be a good thing for the industry, there are many combinations that Operators can consider when thinking about Open RAN," said Karaiskos.
Karaiskos said that at this year's MWC in Barcelona, it was evident that Open RAN had moved from something that was being merely investigated to a strategically important topic for all the major operators, with budgets being assigned accordingly. He believes that Rakuten Symphony's role in that transition is to help their customers on their journey to Open RAN.
"I believe that our Open RAN Customer Experience Centre is designed for us to support customers on their journey and to display our solution stack, which consists of Open RAN, cloud, operations and automation. It is a centre for partners to do joint-testing, and we also see this centre as an area to promote telecoms as a future career for young graduates. We are working with a local university, so together we can promote the future of this industry and make the sector more attractive to graduates," said Karaiskos.
Karaiskos praised the accessibility of the new experience centre in the UK, but also pointed out that Rakuten Symphony have two other labs in Tokyo and one that will soon be launched in Bangalore.
"The benefit of visiting the lab in Tokyo is the fact that you get a real flavour of the network that we built for Rakuten Mobile. We have replicated a lot of what we have done in those two labs here in the UK, so it can also serve as a replication centre for the other two labs," said Karaiskos.
Karaiskos praised the role played by the Japanese Ministry of Internal Affairs & Communications in terms of the support they have shown Rakuten on their Open RAN journey.
"The MIC have been very supportive to us as a company, not just in Japan, but also internationally. They are also big advocates of Open RAN and the emerging technologies that surround it. They have been very impressed with how we translated the original proposal into a reality in such a short period of time. We were granted the award on the 16th of October, and had the centre open by the 28th of March. They are delighted with how we have delivered the project and they have been very supportive in terms of introducing us to the UK government, and other governments across the world," said Karaiskos.
Karaiskos said that the UK government sees Open RAN as the future of the telecommunications industry and believes a statement made by the Department of Culture, Media & Sport in 2019 really helped propel the development and adoption of the technology amongst operators.
"The DCMS announced in 2019 that 35% of UK mobile network traffic will be delivered by Open RAN and Open Networks by 2030. That's a very strong statement in support of Open RAN, and it supported not just Rakuten's vision, but the entire ecosystem for change," said Karaiskos.
Karaiskos also highlighted the transformative impact automation can have for telecommunication operators, drawing upon the success of Rakuten Mobile, Japan's fourth mobile network operator. Rakuten Mobile owns the largest Open RAN virtualised cloud deployment in the world, with just under 400,000 sites currently in operation and almost 100% coverage.
"Operators are very open in terms of looking at what we are doing here because they see the benefits that automation can bring for them. We know that in a typical telecoms' estate automation hasn't featured particularly heavily. The example we often use is the network size of Rakuten Mobile. The national network coverage of Japan is just under 100%, a network of that size from my experience of working with European operators you're going to need a huge team of anywhere between 6,000-9,000 people in terms of field services, operational staff, SOC and NOC to manage that the network. However, at Rakuten Mobile that network is being operated by 250 people because of the automation. Operators need to look at how they can optimise and automate their operations to improve scale, commercial and energy efficiency Karaiskos said.