Hub71, Abu Dhabi's global tech ecosystem, has partnered with global economic transformation leaders Genome to launch the 2023 Global Startup Ecosystem Report.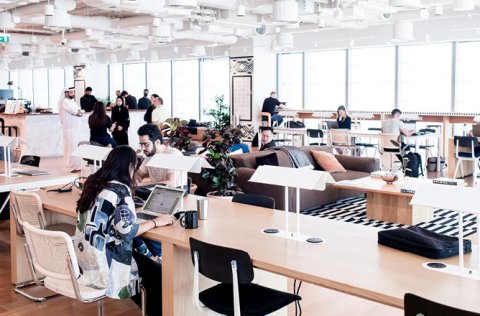 Abu Dhabi has been recognised as a leading ecosystem in the Middle East and North Africa (MENA) in the 2023 Global Startup Ecosystem Report (GSER) by Startup Genome and the Global Entrepreneurship Network, launched today at The Next Web Conference in Amsterdam.
Below are some key findings and takeaways from the report:
Abu Dhabi witnessed the sixth fastest growth globally and the biggest in MENA
Abu Dhabi created $3,925,281,571 in ecosystem value from Jul 01, 2020 to Dec 31, 2022, representing 134% growth from the previous period. Ecosystem value is a measure of economic impact, calculated as the value of exits and startup valuations
Top 5 MENA Ecosystem in 'Bang for Buck' — measures the amount of runway tech startups acquire, on average, from a VC round
Top 5 MENA Ecosystem in Talent and Experience — measures long-term trends over the most significant performance factors and the ability to generate and keep talent in the ecosystem
Top 5 MENA Ecosystem in Funding — measures innovation through early-stage funding and investor' activity
Top 5 MENA Ecosystem in Performance — measures the size and performance of an ecosystem based on the accumulated tech startup value created from exits and funding
Top 10 MENA Ecosystem in Knowledge — measures innovation through research and patent activity
Top 15 MENA Ecosystem in Affordable Talent — measures the ability to hire tech talent
The Fintech, Cleantech, and AgTech and New Food sectors are highlighted for their density of talent, support resources, and startup activity
The Golden Visa program and its strategic location are cited as reasons a startup should move to Abu Dhabi
"As global economic transformation specialists and policy advisors, we're extremely proud of the impressive performance of Abu Dhabi in the 2023 Global Startup Ecosystem Report," shares Marc Penzel, Founder and President of Startup Genome. "Working with Hub71, we continue to witness and shape exciting new policy and program developments that result in the emirates' continued rise in the rankings."
Amer Aidi, Head of Marketing and Operations at Hub71, said: "Innovation and entrepreneurship serve as dynamic engines propelling us into the future. Abu Dhabi, the UAE's capital, has firmly established itself as a leading hub that accelerates the development of cutting-edge technologies and cultivates the businesses of tomorrow, which are at the forefront of innovation. At Hub71, we are honored to be an integral part of this journey, collaborating with our partners to shape the startup landscape in Abu Dhabi. We provide founders with the essential elements of success, including access to talent, investment opportunities, and commercial potential. Together, we are empowering entrepreneurs to thrive and make their mark in the ever-evolving world of business."
Hub71 has also partnered with Dealroom to produce data-driven insights on Abu Dhabi's entrepreneurial ecosystem in a newly launched Ecosystem Portal and 360 Monitor.
These new tools expose key factors and trends in ecosystem development and benchmark the startup ecosystem to identify and measure competitive positioning and strengths relative to hundreds of ecosystems across startup sub-sectors.
The GSER is powered by the world's most comprehensive and quality-controlled dataset on startup ecosystems. Informed by data on 3.5 million startups across 290+ global ecosystems, the report provides compelling new insights and deep knowledge about startup trends around the world.
Contributions from expert thought leaders and local key players further enrich the report's extensive, evidence-based findings, which are the product of over a decade of Startup Genome's independent research and policy work.
The GSER was created in partnership with the Global Entrepreneurship Network, Dealroom, and Crunchbase.
The 2023 GSER provides invaluable insights and guidance on how to promote thriving startup communities — the number one engine of job creation and economic growth. Discover how 140 entrepreneurial ecosystems compare and view the full report here.