Logicom Distribution and Motorola (a Lenovo Company) have announced a partnership for the distribution of enterprise ready smartphones and business solutions for enterprise consumers across the entire GCC region.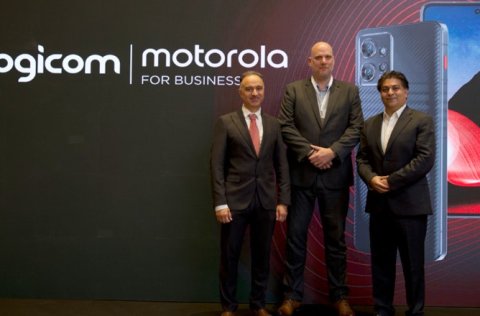 This momentous announcement not only strengthens the partnership already established between Motorola's parent company Lenovo and Logicom, but also positions Logicom as a key player in delivering cutting-edge enterprise-ready mobile devices and solutions to the IT channel across the GCC region.
Leveraging on its proven track record and extensive experience in the technology distribution industry and on the undeniable significance and dependence of Mobile technologies in today's business environments, Logicom is committed to providing exceptional customer experience and value-added distribution services to its partners.
Logicom will collaborate closely with Motorola and its network of channel partners to introduce and promote the complete range of Motorola smartphones and business solutions to enterprises and small-to-medium-sized businesses (SMBs) across the GCC market.
This collaborative effort will unlock new opportunities and drive mutual growth in the dynamic technology sector of the region.
The partnership will see the pair bring to market the latest innovations in the enterprise smartphone space including Motorola's ThinkPhone and ThinkShield Mobile Solutions.
ThinkPhone devices by Motorola are meticulously designed to deliver a comprehensive smartphone experience to businesses.
With a robust suite of security and support features, Thinkshield for Mobile Solutions empowers IT organizations to safeguard their devices with Moto Threat Defense, effortlessly deploy ThinkPhones to end-users through Zero Touch, Moto OEM Config, and efficiently manage their entire fleet using advanced device management solutions like Moto Device Manager.
"We are extremely excited about this opportunity, and we look forward to working closely with Motorola  and our partners across the GCC to help them deliver a truly unique mobile device solution," said Dr. Adamos Christodoulou, Logicom Group Director – Sales Marketing and Services "Our team is committed to providing the highest level of service and support, and we are confident that our partnership with Motorola will enable us to deliver optimized business outcomes to all our stakeholders."
For his part, Sharay Shams, General Manager, Motorola Middle East, said "We are thrilled to announce our partnership with Logicom to bring comprehensive mobile solutions to the GCC region. This collaboration combines the strengths of Motorola's cutting-edge technology and Logicom's extensive distribution network, allowing us to deliver innovative mobile device solutions and exceptional customer experiences to individuals and businesses across the GCC. Together, we aim to revolutionize the way people connect, communicate, and stay productive in this dynamic and fast-paced region. This partnership represents a significant milestone for us, and we are excited about the possibilities it opens up for our customers in the GCC."