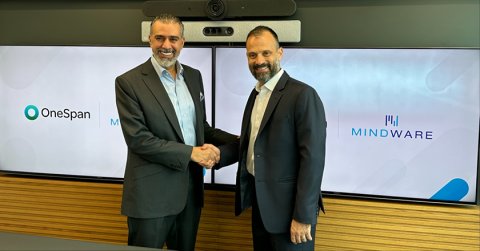 Mindware announced that they would be partnering with OneSpan, the digital agreements security company.
Under the agreement, Mindware will market and distribute OneSpan's cutting-edge solutions, which encompass high-assurance identity verification, transaction signing, authentication, mobile security, streamlined e-signature workflows, and secure video collaboration tools for digital agreements and transactions.
OneSpan's mission is to accelerate customers' digital revenue streams and operating efficiencies by enabling secure, compliant, and refreshingly easy digital agreement experiences. The company has over 30 years of experience working with the most security-conscious organisations in the world, helping them streamline and secure user experiences, which in turn allows them to drive growth, reduce risk, and unlock their business potential.
Speaking about the partnership, Nicholas Argyrides, General Manager – Gulf at Mindware commented: "The pandemic has accelerated the need for digital business transactions. Along with this comes unprecedented digital challenges. OneSpan is a world leader in digital agreements security – a new type of security company built for the incoming Web3 era. OneSpan solutions protect enterprises and their customers throughout their online transactions and digital agreement processes. They provide security from the initial identity verification, all the way through storage, ensuring end-to-end protection. With cybercrime as rampant as it is today, we believe that this market will highly value the solution capabilities offered by OneSpan. As Mindware continues strengthening its security portfolio, this new partnership adds significant value to our offerings".
"We're excited to be partnering with a leading distributor like Mindware in the Middle East and Africa. Together, we are serving a growing demand to provide secure, compliant, and frictionless customer-facing and revenue-generating business processes. This partnership will allow us to scale and we look forward to growing together in the region", concludes Mr. Jawad Toukna, Vice President of Sales & GM, EMEA at OneSpan.