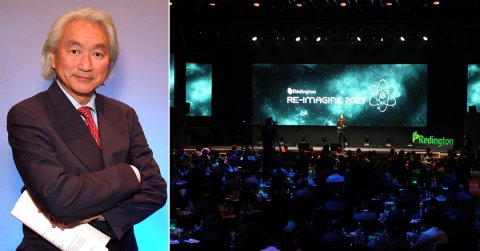 Redington hosted its inaugural Redington Re-Imagine 2023 at Dubai Opera on 14 June 2023.
The event brought together representatives from all parts of the technology industry – customers, vendors, partners, innovators – as well as students in technical streams in some of the leading UAE universities. Featured speakers included Dr. Michio Kaku, a distinguished theoretical physicist and futurist, Dr. Zina Jarrahi Cinker, an authority on material innovation, and Mike Walsh, a prominent futurist and the CEO of Tomorrow, Adam Simon, Global MD of CONTEXT, a leading IT Channel Intelligence company, and Redington leadership.
The exclusive event also showcased regional success stories by featuring the experiences of Elie Habib, Co-Founder and CTO, Anghami, Stephen Kruger, Chief Technology Officer, Careem, and George Njuguna, Director, Information Technology (CIO) of Safaricom. Redington Re-Imagine 2023 brought together 700 technology professionals from across the globe, representing industry giants such as Microsoft, Dell, HPE, AWS, Apple, and from brands across the ecosystem. To enable academia to interact with this tech cohort, the event also hosted students and faculty members from BITS Dubai and American University Dubai.
Redington MEA CEO Viswanath Pallasena said, "We have no doubt that the MENA region is among the most forward-looking when it comes to technology innovation, and all the attendees at Redington Re-Imagine 2023, representing the leading technology brands operating in the
region, echoed this sentiment. Enabled by a supportive government and regulatory environment, and inspired by the advanced technology applications that we as an industry are part of, we see this event as a celebration of opportunity. We are also enthused by the strong tilt within the industry towards creating holistic products and solutions that are both futuristic and sustainable".
Dr. Michio Kaku, a distinguished theoretical physicist and futurist asserted that "new technologies like artificial intelligence and quantum computers will affect businesses and life in the future. We can envision a world where we have unlimited sources of energy, we can expand
our lifespan or even cure global warming, all thanks to technology."
A highlight of the event was the launch of the Redington survey 'Technology Innovation and Adoption', in collaboration with CONTEXT. In an online survey that polled over 200 professionals in the regional technology industry, one of the biggest findings was that 42 percent were investing in developing their own Intellectual Property. This IP is particularly in software development and is a clear sign that technology companies in the region are increasingly focusing on solutions that cater to the unique needs of their customers.
As trusted advisors to the Government and public and private sector enterprises in the region, these technology solution providers are also ramping up expertise and offerings, with more than half (53 percent) planning to increase their investment and focus on advanced technologies such as Artificial Intelligence (AI), to stay ahead of customer demand. The survey indicated the sentiment that the MEA region is quicker to grasp AI when compared to other regions. A key takeaway was an industry-wide emerging sustainability focus, driven by stated national goals, a wider industry conversation, and changing customer demand. A clear majority of respondents (71 percent) believe that offering sustainable technology solutions and tracking and reporting on CO2 impact will become the norm within the next one to three years.
"Redington Re-Imagine 2023 brought attention to emerging technology areas such as Artificial Intelligence, 5G, Robotics, Quantum Computing, and much more. Our survey also showed that we are all in a region where the real-world adoption of these advanced technology areas is imminent with 53 percent of companies investing in technologies like AI compared to previous years. Our focus is on Re-Imagining technology, from potential to opportunity, in a sustainable manner", said Redington Managing Director Rajiv Srivastava.
Redington's Business Group Heads convened on a panel discussion to debate 'Bridging the Gaps of the Channel Ecosystem'. Moderated by Janees Reghelini, Redington's Communications and Media Manager, the panel included Rawad Ayash, President, Redington Saudi Arabia,
Dharshana Kosgalage, Head of Redington Technology Solutions Group (TSG), Jeetendra Berry, President, Redington End-Point Solutions Group (ESG), Nehal Sharma, Head of Redington Cloud Solutions Group (CSG), and Jim Matthew, President for Redington Mobility Solutions Group (MSG).
Since emerging as a USD $10 billion company in the last financial year, Redington is now one of the top 10 distributors worldwide and the largest distributor in the META region. With focus on the future of technology in areas such as cloud, automation, AI, endpoint, mobility and cybersecurity, Redington is poised to become a platform for the region's technological needs.