June 30th 2022: IT leaders from across the Middle East had their outstanding achievements celebrated at the Transformational Leadership Awards 2022, which were hosted by CPI Media Group.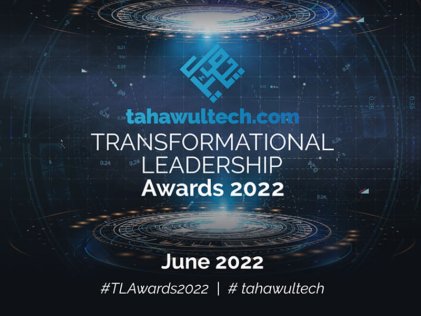 The awards are designed to pay tribute to the IT trailblazers from the banking and financial services, IT, Education, Healthcare and retail sectors, to name just a few, who have pioneered and led transformation programs, projects, and initiatives for their respective organisations over the last 12 months.
The event was held at the palatial Taj Exotica Resort & Spa, located on The Palm, and was the perfect setting for a night of celebration for those driving change and transformation in IT and technology.
The full list of winners are outlined below:
Best Digital Banking Project of the Year – Commercial Bank of Dubai 
Best Technology Skilling Service Provider of the Year – Spectrum Networks 
Best Education Technology Distributor of the Year – Avientek
Cybersecurity Visionary Sales Professional of the Year – Rahil Ghaffar, Virsec
IT Leader of the Year  – Nagarajan Manivannan, Mashreq Bank
Best AV and IT Infrastructure Distributor of the Year – Malco Technologies
Innovative IT Services Provider of the Year – Raqmiyat  
Most Innovative Healthcare Initiative of the Year – King's College Hospital London, Dubai 
Network Management and Monitoring Vendor of the Year – ManageEngine 
Best Endpoint Security Vendor of the Year – Sophos 
Cloud Security Vendor of the Year – Cloudflare 
Digital Transformation Visionary of the Decade – DELL Technologies 
Value-Added Distributor of the Year – Ingram Micro Gulf 
Digital Transformation & Sustainability Provider of the Year – AVEVA 
Senior Marketing Leader of the Year – Tushar Chawla, Westcon-Comstor
Best AI Transformation in Customer Experience – Al Futtaim 
Channel Marketing Personality of the Year – Faraz Ali Khan, ASBIS Middle East
Best System Integrator of the Year – Alpha Data 
Security Value-Added Distributor of the Year – StarLink
Best Email Security Vendor of the Year – Barracuda Networks 
Best BFSI Transformational Solution of the Year – ServiceNow 
Best ERP for Migration Strategy – King's College Hospital London, Dubai 
Strategic Innovation Leader of the Year – Mohammad Ali, Logitech 
Best Digital Banking Innovation Provider of the Year – Emirates NBD 
Next-Generation Consulting Partners of the Year – Emitac Enterprise Solutions 
Best Evolved Value-Added Distributor of the Year – EVAD
Best Enterprise E-Learning Solution – CUPOLA Group 
Video Collaboration Vendor of the Year – Logitech 
Disruptive Technologies Distributor of the Year – VAD Technologies 
Mission-Critical Cloud Partner of the Year – Cloud4C Services 
Best Mission Marketing Team of the Year – Ingram Micro Gulf 
Experience Economy Tech Solutions Provider of the Year – Avaya OneCloud Platform
Value-Added AV Distributor of the Year – NMK Electronics Trading LLC
Technology Visionary of the Year – Sakkeer Hussain, D-Link 
Cloud Solutions Provider of the Year – Infobip 
Finance Executive of the Year in Technology – Samar Imad Haddad, Avaya
Innovative Workload Protection Vendor of the Year – Virsec 
Marketing Executive of the Year – Kamlesh Lal, DELL Technologies
Best Technology Vendor of the Year for Hybrid Work – SolarWinds 
Best AI Transformation in Financial Services – First Abu Dhabi Bank