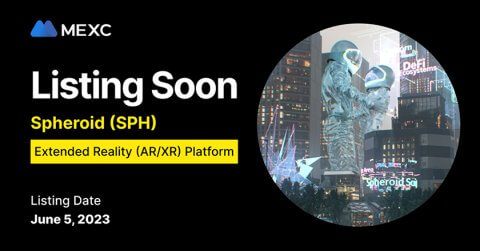 Spheroid Universe is announcing that their token, SPH, will officially be listed on MEXC on June 5th.
Founded in 2018, MEXC (also known as MEXC Global) is a rapidly-growing cryptocurrency exchange with more than 6 million users in over 200 countries, including the USA, UAE, Canada and Australia. MEXC is regularly featured as one the top exchanges globally for trading volume. The exchange offers one of the widest ranges of cryptocurrencies with over 1,500+ coins listed on the platform. It brings a wealth of experience listing top performing tokens, with a reach that only a handful of exchanges in Crypto have, helping Spheroid Universe go global.
The move follows the company's recent launch of ChatGPT-powered artificial intelligence (AI) Avatars that will inhabit the world around us via augmented reality (AR). This ground-breaking development will deliver breakthrough opportunities across numerous business platforms – from e-commerce and retail to advertising, sales, general customer, and consumer interactions and more.
Commenting on the announcement, Andrey Almiashev, CEO, Spheroid Universe said: "Launching our token on MEXC will place SPH firmly on its trajectory towards growth as well as will bring the bandwidth that aligns with our aspirations for Spheroid Universe – putting Spheroid Universe as a leader in the metaverse projects, and the entire Extended and Augmented Reality industry".
Millions of technology enthusiasts' attention is directed towards Apple's conference today, Tuesday, with anticipation for their announcement of entirely new products related to virtual reality and augmented reality. On the other hand, Spheroid Universe aims to integrate its artificial intelligence (AI) Avatars solutions with the anticipated smart Apple glasses, which, alongside the AI avatar, will create an immersive experience on all levels.
Spheroid Universe angles to be the battle-tested AR/XR platform across the entire landscape of web3, XR/VR and metaverse industries, ultimately helping to define the internet experience of the future.
Brands and organisations that are looking to create an immersive digital experience will make Spheroid Universe the place where they can truly demonstrate innovative experiences.