Dubai Chamber of Digital Economy, one of the three chambers operating under Dubai Chambers, has successfully concluded a roadshow to Hong Kong, the Philippines, South Korea, Malaysia, Singapore, and Japan to scout for startups to participate in the Expand North Star event in Dubai.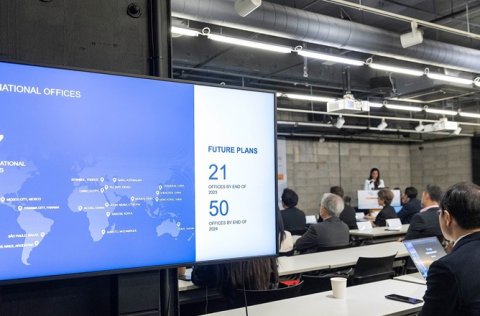 During the roadshow, the Chamber introduced 481 startups to doing business in Dubai and highlighted the role it plays in providing support to businesses within the ecosystem. In addition, the Chamber hosted a pitch competition designed to drive participation in Expand North Star. The winner will receive a fully sponsored visit and participation in the upcoming event.
As part of the Asian tour, Dubai Chamber of Digital Economy also held a total of 17 private meetings with MNCs, unicorns, and incubators to explore potential collaborations within each market.
Expand North Star is the largest start-up event in the world, uniting more than 1,400 exhibitors and 1,000 investors at Dubai Harbour from 15 – 18 October 2023. The event aims to ramp up the start-up entrepreneurship momentum, transcending geographic industries and intellectual boundaries as it connects government partners, investors, and corporate accelerators with innovators and tech stars from every continent.
Dubai is embracing Web3 and the metaverse as part of efforts to drive the UAE's digital economy forward, as well as fully integrating blockchain and AI technology across the public sector and investing in fintech and digital assets. Dubai Chamber of Digital Economy is working to accelerate the growth of Dubai's digital economy and attract promising digital businesses to the emirate.
Expand North Star will bring together startups from across the globe to connect with industry leaders, government officials, venture capitalists, and other potential investors. The event also supports the tech community by hosting forums and initiatives that bring together international and local tech companies, entrepreneurs, investors, and other key stakeholders.
Expand North Star plays a critical role in attracting and connecting the global tech community to Dubai by providing a supportive platform for innovation and collaboration. The event will feature a series of summits, innovation challenges, conferences, and exhibitions showcasing the latest technological advances. The initiative provides opportunities for networking and collaboration while further cementing Dubai's position as a leading hub for innovation and technology, as well as driving economic growth and development both in the emirate and globally.