TikTok MENA hosted an insightful panel discussion which delved into the important topics of online safety and digital well-being for teens.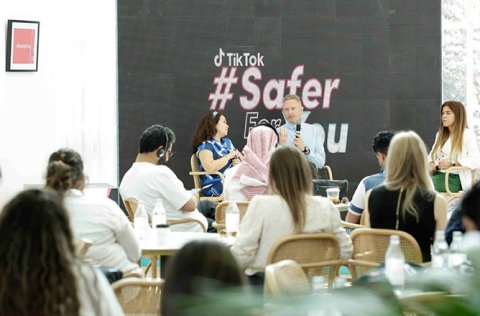 The event provided valuable insights on navigating the digital world safely, while fostering a thriving community where creativity knows no limits.
The dynamic discussion, featuring panelists Kevin Morgan, Head of Trust and Safety at TikTok Europe, Middle East & Africa, and Hanan Ezzeldin of The Family Hub, an expert in parenting, education, and positive discipline, revolved around the precautions that users and digital platforms can take to protect young users and how TikTok is leading the way in creating a secure and uplifting online environment.
During the safety roundtable, held at East West Atelier in Al Quoz, Dubai, TikTok showcased its dedication to user safety, particularly for teenagers, discussing the common signs that a teen may be experiencing online harassment or cyberbullying and how TikTok's Family Pairing feature promotes open communication between parents and teens and strengthens the parent-child relationship.
The panel also delved into details of how the platform's default weekly digital well-being prompts for younger members encouraged them to think more mindfully about developing positive digital habits, and how it maintains transparency with users and relevant stakeholders.
The discussion highlighted TikTok's continuous efforts to nurture its growing community and promote a safe and positive environment for teens and their parents.
The panelists explored various topics, including the important role parents play in supervising their teens' online activities, promoting open dialogue between parents and teens about safe digital practices, and effective strategies for educating teenagers on responsible online behavior.
Engaging questions addressed issues such as identifying signs of online harassment or cyberbullying among teenagers.
On fostering a safe online environment for teens without compromising their digital life and experiences, Hanan Ezzeldin said, "You cannot keep teenagers from being on digital platforms nowadays. Kids learn from parent modeling, not parent instruction. So besides having a conversation with your teens about privacy and boundaries online, it's important to walk the walk with them and foster the kind of trusting relationship that makes them not want to block their parents on digital platforms."
The event also shed light on TikTok's safety initiatives in the MENA region, including collaborations with the Emirates Safer Internet Society, aimed at creating a secure digital environment for users, particularly the younger generation.
A vital initiative between TikTok and the UAE Media Regulatory Office in 2022 raised awareness of dangerous challenges and hoaxes in multiple languages, with popular creators highlighting the risks in a relatable manner.
Kevin Morgan said, "We're increasingly thinking about content classification in global and local ways on the app for different age groups as we understand that there can be some content that isn't comfortable for everyone – our Content Levels and new algorithm features will reduce the likelihood that teens are exposed to content that isn't appropriate for them to see. We're also working closely with the Safety Advisory Council members in this regard, to help us identify challenges and ensure content is appropriate for users in the MENA region."
Morgan also stressed the importance of safeguarding younger generations in the ever-changing digital landscape, stating, "At TikTok, safety is a never-ending job. We are fully committed to creating a safer environment for our community", he said. "The highest priority in the digital world should be safeguarding its younger users and empowering creators to authentically express themselves."
"We are trying to educate the first generations of kids who don't know what life is like without digital platforms," said Ezzeldin. "We need not only parents but also schools to step up in improving awareness around digital safety."
TikTok reinforced its commitment to making the platform a safe place for teens to express their creativity, with a focus on its Transparency Reports that provide insights into community guidelines enforcement, information and content removal requests, privacy and more.
TikTok believes that everyone deserves to feel safe online, and that feeling safe is key to unlocking imagination and creative expression.
That's why they continue their work to build a safe, inclusive and authentic home for their global community, to help people stay in control as they express their creativity, make meaningful connections, and enjoy culture-defining entertainment.