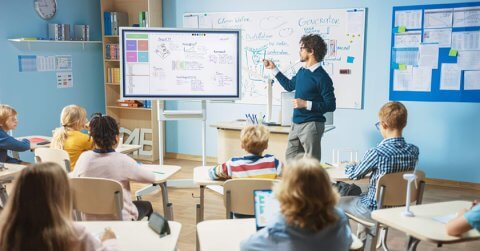 For education institutions around the world, providing optimal learning experiences and outcomes for students is the top priority. When it comes to delivering this goal, Hikvision digital technologies are a powerful ally, allowing institutions to deliver highly immersive learning experiences for both students studying locally in classrooms, and those who join classes from home or from other remote locations.  
In the past, teachers and students had little or no access to technology, resulting in the use of textbooks and chalkboards for classroom teaching. In this model, many factors impact the quality of education students receive, from the experience of the teacher and the size of the class, to the quality of the books and other materials available.
When it comes to overcoming these challenges – and providing a high-quality education for as many children, young people and adult learners as possible – Hikvision digital technologies are a powerful ally.
In particular, new digital technologies are empowering students to learn more easily, effectively, and comfortably, both on campus and remotely, while enabling teachers focus more on teaching itself and on delivering quality education resources to more students outside classrooms.
Hikvision 4 key ways digital education solutions can help students learn faster and achieve more, both in the classroom and remotely:
Enhancing classroom learning with the latest digital technologies
In conventional classrooms, teaching tools offer limited formats for writing, illustration, and other resources, which also makes learning very challenging for the students sitting in the back row or students with learning difficulties. Moreover, classroom-bound teachers need a whole host of tools to create lessons, including chalk, markers, a projector, chalkboard, and so on. With Hikvision's latest generation of in-classroom interactive digital displays, the teaching and learning experience becomes more efficient and more engaging. This is based on visual experiences that are far superior to traditional chalkboards; the ability to share multimedia teaching materials direct to students' devices in real time; and technologies that protect teachers' and students' eyes far more effectively than traditional screens.
Increasing educational inclusion based on new remote learning opportunities 
Not all young people can physically attend classes, either due to illness, disability or, in some countries, because they live in rural areas without schools or colleges nearby. Hikvision's latest digital solutions can help to close the educational divide by allowing students at home or in other remote locations to access classes broadcasted from school classrooms in real time, or classes that are recorded and shared with remote students at a later time. The best solutions of this type also support seamless integration with mainstream video conferencing applications, allowing remote students to join classes quickly and easily from wherever they are working.
Creating great learning opportunities in multiple classrooms simultaneously 
In many schools or colleges, specialist teachers may not have time to meet the demands of the entire student population. In these cases, it is extremely valuable to broadcast classes – either to other classrooms in the same school, or to classrooms in other schools. Hikvision's "multi-classroom" approach, which is based on excellent quality video and audio capabilities and digital display capabilities, enables a wealth of new educational opportunities – offering excellent teaching resources and experiences to large numbers of students in remote cities or classrooms. The best solutions of this type allow students in three classrooms (the primary classrooms and up to three 'secondary' classrooms) to raise their hands and interact with the teacher, allowing them to ask questions and maximise their learning potential.
Improving group discussions with better interactive experiences in classrooms fitted with multiple displays
Traditionally, teachers and students have used chalkboards or paper to facilitate group discussions, share opinions, or make comments and annotations to texts and diagrams. Today, however, there is a rapidly growing trend towards replacing these with interactive displays. Hikvision's smart education solutions combine these with multi-display classrooms to deliver very flexible and dynamic learning environments. These can feature the main display or be split into smaller group displays; and they can facilitate synchronous sharing of displays, comparison displays, live demonstrations, and so on. By linking Hikvision PTZ cameras that focus on key areas, and by working together with other smart video technologies, teachers and students have the ability to make the vision of fully interactive classes a reality.
Find out how with Hikvision
To help students learn faster and achieve more, Hikvision provides a range of next-generation digital education solutions – including a range of smart classroom technologies and devices. These include Hikvision's Classroom Hub solutions, which include innovative, immersive solutions for remote learning and for multi-classroom teaching and learning.
To find out more about Hikvision's digital education solutions, please visit the website. You can also contact us today for a meeting to discuss your specific needs and we'll be happy to help.
Visit our booth at GESS 2023: K20. We're looking forward to seeing you!